Top Private Brand Categories on The Move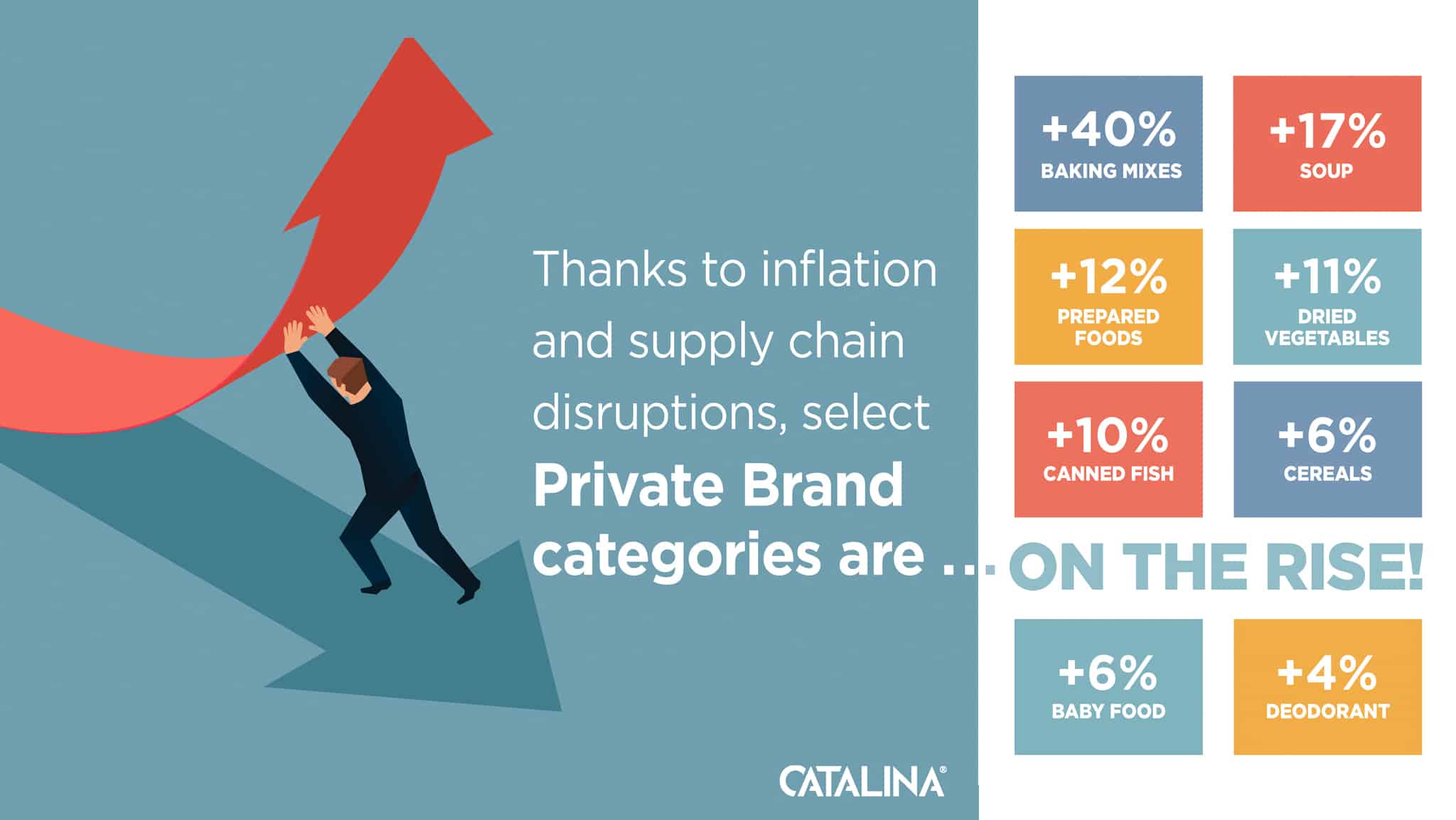 With rising inflation and ongoing supply chain issues continuing to unsettle consumers, shopper intelligence leader Catalina is closely tracking the sales impact on grocery retailers' Retail Brands (private brands).
Private brand categories showing the biggest gains year to date through July 17, 2022, per Catalina's Shopper Intelligence Platform, include Baking Mixes – up 40%, Soup – up 17%, Prepared Foods – up 12%, Dried Vegetables – up 11%, Canned Fish – up 10%, Cereal and Baby Food – both up 6% and Deodorant – up 4%.
Among the insights gleaned from its recent analysis:
The rise in unit sales of store brand staples like canned fish and soup indicates consumers are looking for affordable lunch and dinner solutions.
With the USDA reporting brand name cereal prices rising between 10-11% in 2022, private brand alternatives are benefiting.
While the pandemic-fueled trend of scratch baking has declined, baking mixes remain popular, with shoppers increasingly opting for store brand mixes (up 40%).
As more consumers return to the office, purchases of affordable personal grooming items like deodorant as well as prepared foods are also on the rise.
Shoppers also are scooping up private brand baby food and formula, looking for alternatives amidst a nationwide shortage of manufacturer brand products in this category.
"The data clearly indicates that shoppers have become more price-sensitive and value-driven in recent months," said Sean Murphy, Chief Data & Analytics Officer. "Our platform powers these sorts of insights, helping us advise our retailer and CPG customers on the most effective shopper audiences, marketing messages and offers to measurably impact sales."