Kroger Announces Food Trend Predictions for 2023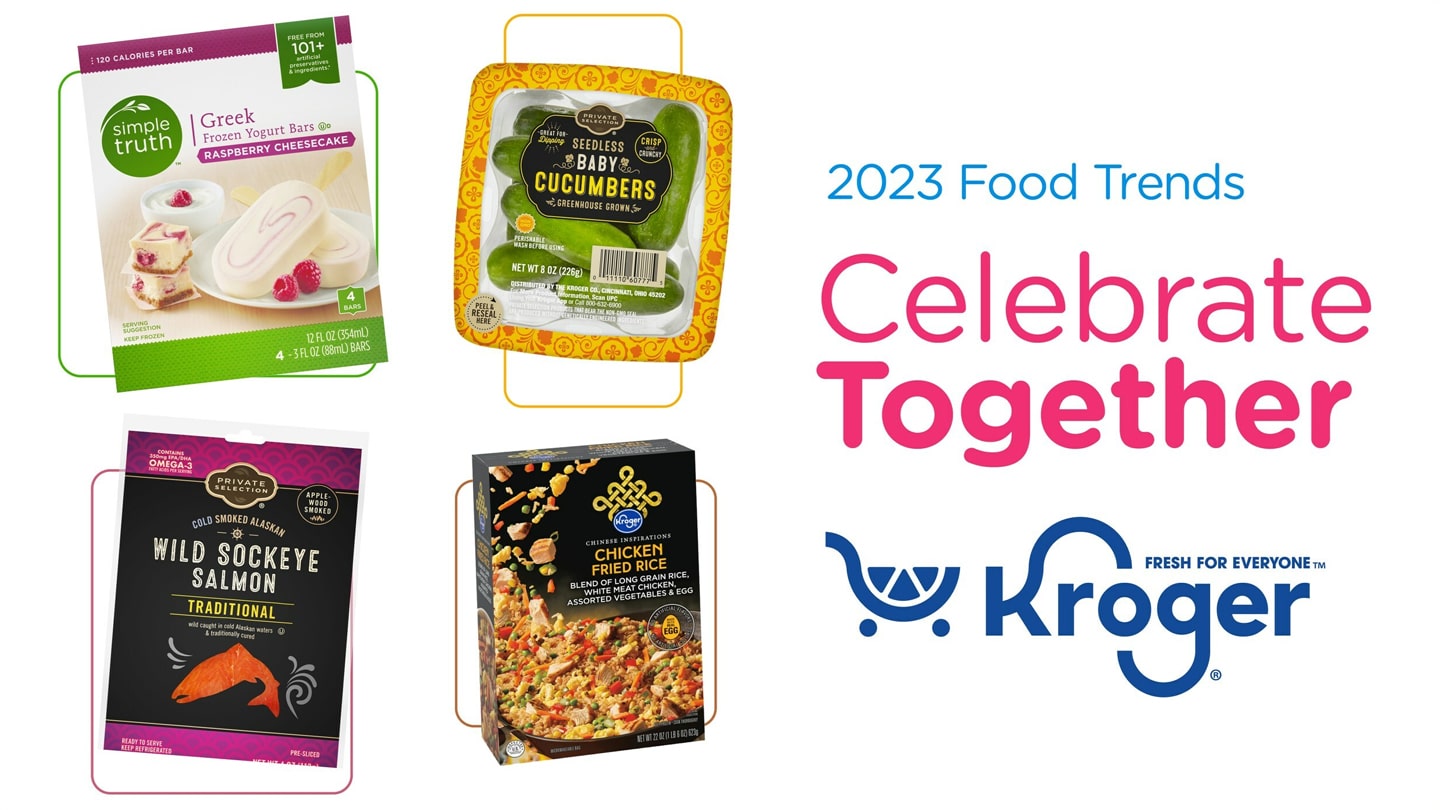 Kroger today announced its 2023 Food Trends Report, which predicts emerging food trends, consumer behaviors, and popular items for the year ahead. The fifth-annual report centers on America's continued eat-at-home habits as pandemic concerns subside with consumers now seeking to make up for lost time and celebrate everything from life's special moments to everyday milestones by entertaining and cooking at home together with their family and friends. The Kroger team has also included plenty of Retail-owned Brand (private brand) product suggestions to bring the trends to life.
"This is the year of celebration as we relish in being together with family and friends," said Stuart Aitken, senior vice president, chief merchant and marketing officer. "Customers not only learned to cook during the pandemic, they grew to love it. In 2023, cooking at home remains a mainstay with customers gathering together to celebrate time lost and save money as inflation moderates. From global flavors and elevating a special meal to household staples, Kroger is proud to offer our customers fresh, affordable food every day and we are honored to play a small part in so many shared happy moments."
Foods and flavors that make everyone happy
From grandparents to Gen z, curating a celebratory spread that is sure to please a crowd is top of mind for hosts and entertainers. Standbys such as cheese, cheesecake and salt and pepper flavored items are more popular than ever with customers. From elevating personalized charcuterie, adding a special zest to family favorite snacks and dishes to satisfying a sweet tooth, shoppers are falling in love with these favorite foods and flavors all over again.
Kroger-owned Brand Products to try:
Murray's Cave Aged Gruyere
Private Selection New York Style Cheesecake
Private Selection Greek Olives & Feta Mix
Private Selection Roasted Poblano Queso Blanco Dip
Home Chef Broccoli Cheddar Chicken Casserole
Private Selection Creamy Macaroni & Cheese Kit
Simple Truth Plant-based non-dairy Parmesan Style Cheese
Simple Truth Raspberry Cheesecake Greek Frozen Yogurt Bars
Private Selection Sea Salt Caramel Coffee Creamer
Private Selection Cracked Pepper & Sea Salt Kettle Chips
Murray's Mini-Brie
Making it easy on the host
Customers are looking for ease when it comes to everyday snacking, meal planning and hosting. Dips and dippers have emerged as a favorite, whether it's for a delicious snack or pleasing partygoers. From fresh veggies to protein packed, the options are endless for a satisfying dip and dipper combo. Sweet snacks are also on the rise with customers jazzing up their traditional salty snacks or looking for an easy dessert option to contribute to a celebration.
Kroger-owned Brand Products to try:
Kroger Chicken Salad
Simple Truth Organic Black Bean Dip
Private Selection Hass Avocado Ranch Dip
Simple Truth Ancient Grains Jalapeno Cilantro Gluten Free Rice Crackers
Private Selection Seedless Baby Cucumbers
Simple Truth Organic Snap Peas
Private Selection Sweet Brown Butter Pretzel Twists
Simple Truth Sugar Cookie Confetti Cashews
Kroger Brand Popcorn cheddar & Caramel Mix
Private Selection Gold Nugget Seedless Mandarins
Simple Truth Plant-based Mini Cookies
Making a meal special
At home meals remain a staple with shoppers continuing to find ways to elevate their menus. During the pandemic customers began engaging more with seafood and the grocer shares the trend continues to grow. Look for items such as shrimp, sea scallops and crabcakes to add a special element to a meal and save money instead of eating seafood in a restaurant.
Kroger-owned Brand Products to try:
Private Selection Cold Smoked Alaskan Wild Sockeye Salmon
Home Chef Grilled Atlantic Salmon with Lemon Garlic Butter
Kroger Savory Garlic Shrimp Scampi
Kroger Beer Battered Shrimp
Private Selection Shrimp Queso with Green Chiles Dip
Private Selection Crab Cakes
Private Selection Bacon-Wrapped Wild Sea Scallops
Celebrate our heritage
Foods and flavors from around the globe are being embraced as customer favorites. Families and friends are connecting over meals boasting ingredients that celebrate the diversity found in food.
Kroger-owned Brand Products to try:
Private Selection Argentinian Inspired Chimichurri Blend
Kroger Chinese Inspirations Chicken Fried Rice
Private Selection Indian Inspired Tikka Masala Simmer Sauce
Kroger 90 Second Cilantro Lime Rice
Home Chef Indian Style Chicken Curry Soup
Simple Truth Organic Sweet Thai Chili Sauce
Private Selection Chile Crisp Condiment
Home Chef Carne Asada Street Taco Kit
Kroger Yum Yum Sauce
Kroger Korean Inspired Meatballs
Home Chef Thai Chicken Coconut Curry