Marks & Spencer to Upcycle Surplus Loaves Into Frozen Garlic Bread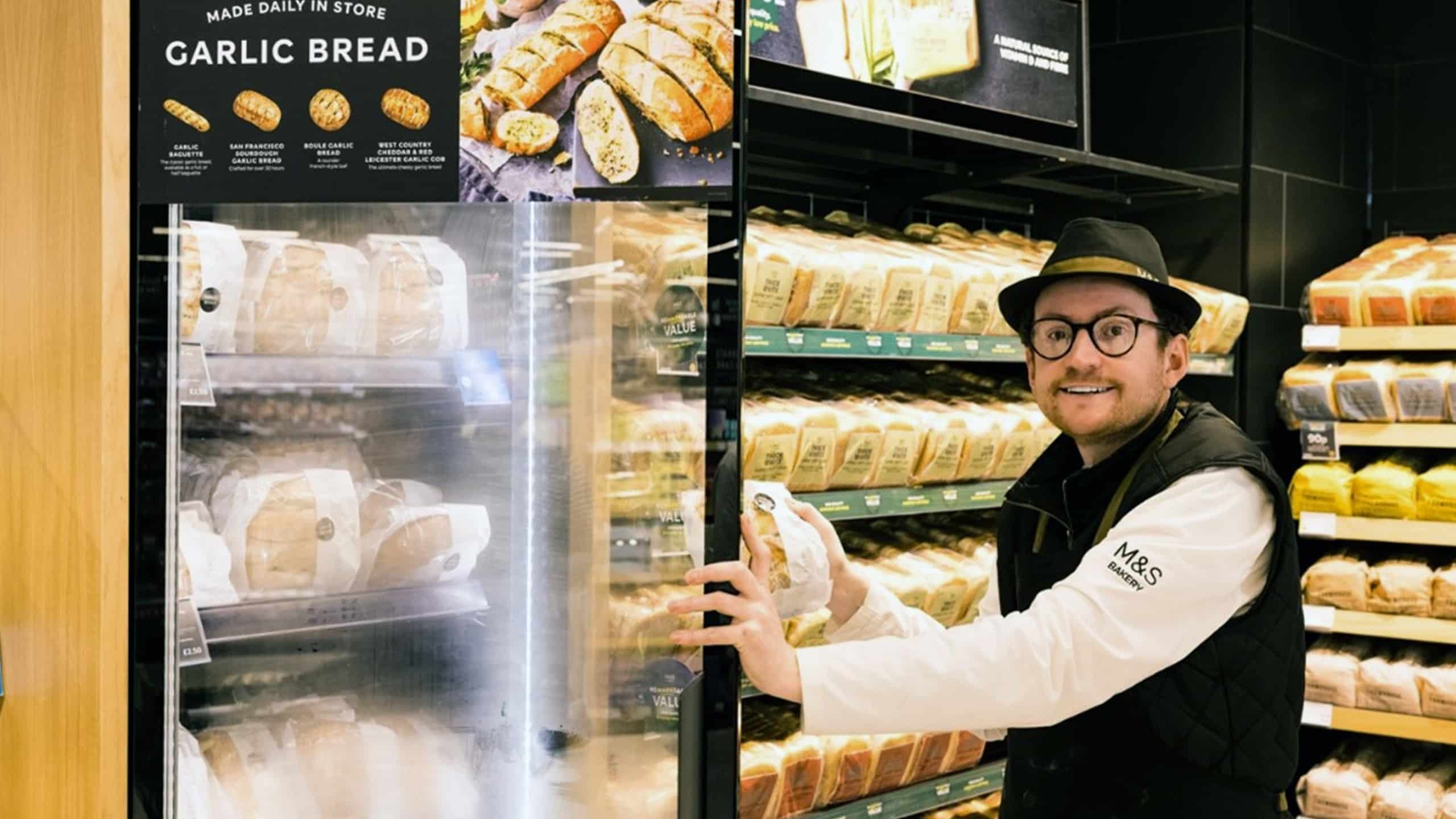 British retailer Marks & Spencer (M&S) is expanding its private brand frozen garlic bread food waste initiative to an additional 125 stores this April.
At the end of each day, unsold baguettes and boules – baked in-store daily – are prepared and filled with garlic butter, and then sold as frozen garlic bread from £1, with an extended shelf life of 30 days.
The program is currently live in 253 stores and launched in 2020 following a successful trial. Since then, M&S has sold 2.1m of the re-purposed loaves with the best-selling store M&S Nottingham Giltbrook.
Due to its popularity, the scheme is not only being extended to more stores but two new products will be available.
Customers will now have a choice of San Francisco Sourdough Garlic Bread (£3) and West Country Cheddar and Red Leicester Garlic Cob (£3), alongside the existing choices of a Garlic baguette (£1 single pack or £2 twin pack) and a boule (£2.50).

M&S' upcoming Family Matters Index, based on interviews with over 5,000 UK adults, reveals that 7 in 10 adults are making an effort to live more sustainably due to the cost-of-living crisis. Of those, 85% are prioritizing reducing their own food waste.
Andrew Clappen, Technical Director at M&S Food, said: "Our in-store bakers create the freshest, highest quality bread daily for our customers. We believe each loaf is too good to waste, and our customers agree. By getting creative, we've found a way to extend shelf life and create delicious products for our customers – at great value, too from £1.
"The response has been fantastic, and now is the time to roll out to more stores with more products. We're determined to keep finding innovative ways to tackle food waste, at source and in-store. As well as creating frozen garlic bread, our 25p ripe banana bags are another great initiative proving popular – we've sold over half a million since we started them."
M&S has pledged to halve food waste by 2030 and redistribute 100% of its edible surplus by 2025 as part of its Plan A sustainability roadmap.
Catherine David, Director of Collaboration and Change at WRAP, said: "It's great to see a simple and effective idea grow in this way. Bread is the second most wasted food item in UK homes with the equivalent of more than one million loaves binned every day. As a short shelf-life item, bread can also become surplus at the end of trading so giving a second life to a surplus loaf is an excellent way to reduce waste, make our food go further and feed families."
As well as expanding its frozen garlic bread scheme, the retailer is taking several steps to reduce food waste and helping its 30 million customers and 70,000 colleagues to do the same, including:
Partnering with Neighbourly: Donating 57 million meals to charities by partnering with Neighbourly since 2015, where store teams work closely with their local communities to ensure edible food surplus is redistributed.
25p Banana bag scheme: Since launching in 2021, over 500,000 banana bags have been sold, offering a minimum of three ready-to-eat bananas along with two delicious recipes.
Best before dates: Last year, M&S removed best before dates from over 300 fruit and vegetable products to help tackle household food waste.
Sparking Change tips and inspiration: Helping customers to reduce food waste with Love your leftover recipes, such as blueberry and banana pancakes, as well as expert tips on batch cook