CVS Launches Gold Emblem Aluminum Refillable Water
Woonsocket, Rhode Island-based drug chain CVS Health is expanding its Gold Emblem Retailer-owned Brand, a new aluminum-bottled water. The launch contributes to CVS' goal of reducing single-use plastic in private brand packaging by 50% by 2030.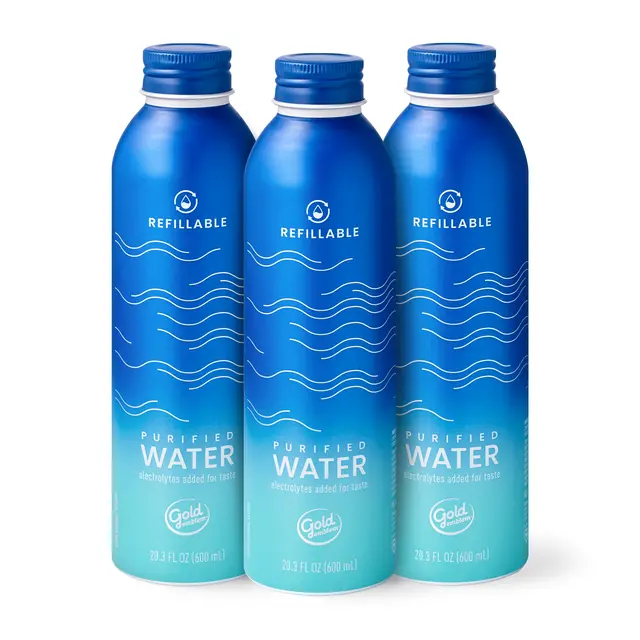 Gold Emblem Refillable Purified Water
20.30 oz, 3.8 lbs. Item # 378905
Purified water
Electrolytes added for taste
Refillable aluminum bottle
Stylish blue color
Wide mouth opening
Made from recyclable aluminum.
Three 20.3 OZ bottles in a recyclable cardboard box
Bottle made in the USA
Hydrate. Refill. Repeat.
Crisp taste, less waste, and more chill with every refill.
Pick up a three-pack of Gold Emblem Purified Water in reusable and refillable purified aluminum bottles for hydration on the go. You can keep one bottle at home, leave one at work, and one in the car. Or pick up one or more of these multipacks and share them with friends and family. Each 20.3oz bottle contains purified water enhanced with electrolytes for a clean, refreshing taste. Infinitely recyclable, this bottle's aluminum construction is lightweight and made from recycled materials, an eco-friendly option compared to single-use plastic water bottles.
Each bottle of purified water is equipped with an aluminum screw cap. It's BPA-free, and no microparticles are released into this bottle. Use this water bottle for any cold beverage. When placed in a fridge or cooler, it chills your drink in only about 20 minutes. The sleek blue bottle has an easy-to-grip design and tucks easily into most gyms, backpacks, and tote bags. Please take it to work or school or carry it while running errands. It fits into most car cup holders for travel.
With Gold Emblem, you can turn any day into a celebration. We make sharing easy with food that's high quality and big on flavor: so bake a cake, pour a drink, or pass the snacks. Life is waiting. Dig in!