Final Velocity Sustainability Summit Presentations Announced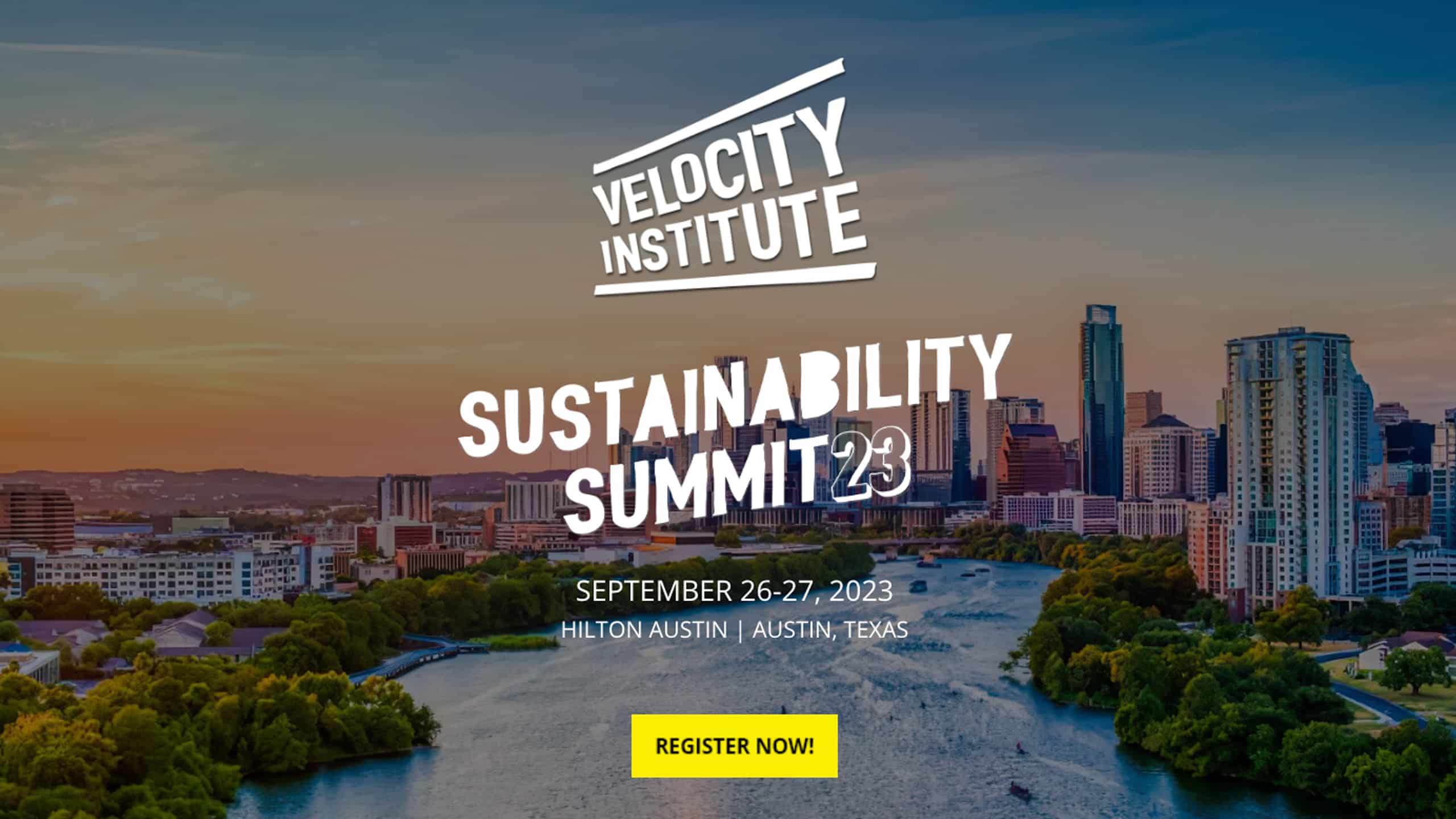 In a post-COVID world, sustainability has become an inescapable buzzword, used to market everything from blue jeans to ice cream. Retailers, including Walmart, Target, Kroger, Whole Foods, Walgreens, and Amazon, have all announced sustainability initiatives and goals that feature sustainability goals for Private Brand products and packaging.
The 2023 Velocity Institute Sustainability Summit, is a private brand event that focuses on Sustainability. This is an event designed to bring Private Brand teams and Sustainability teams together to explore the themes, trends, and big ideas driving Retailer-owned Brands (private brands) forward.
The speakers at this year's Summit, to be held September 26-27 in Austin, Texas, will analyze these topics and many more. Thus far, confirmed participants include established and emerging companies that are paving the way, including Walgreens, Fairtrade, Whole Foods, Clemson University, Misfits Market, The Recycling Partnership, Meijer, and more.
The two days promise to be full of insights and actionable information, and on behalf of the entire Velocity team, we look forward to seeing you there.
PRESENTATIONS INCLUDE
Prioritizing Retailer-owned Brand Sustainability
Tom Hermes, VP, Sourcing and Product Development, WHOLE FOODS MARKET
Caitlin Leibert, VP, Sustainability, WHOLE FOODS MARKET
Hermes and Leibert will discuss why private brands must prioritize Sustainability for the communities we serve and our planet. They will focus on Sustainability's critical role in private brand Innovation and New Product Development.
Building & Growing a Values-Based Modern Grocer
Morgan Drummond, Sr Director of Private Label, MISFITS MARKET
Alexandra Hickey, Sr Director of Merchandising – Grocery, MISFITS MARKET
Morgan and Alexandra will present a look inside the national values-based online grocer that makes shopping for sustainable, high-quality groceries easier and more affordable.
In addition to rescuing more than 500,000 pounds of food weekly, Misfits Market has built an award-winning private brand. From rescued pumpkin to broken rice, learn how Misfits Market's brand delivers value through creative sourcing and products that match modern customers' values.
Walgreens – An Interconnected and Inspired Sustainability Journey
Andrew Horn, Sr Sustainability Operations Manager, WALGREENS
Andrew Horn will present a look inside Walgreens-owned Brand sustainability effort. He will discuss Walgreens Boots Alliance (WBA) commitment to owning the process of bringing products to market honestly, safely, and sustainably. Whether in sourcing, designing, or packaging their own brands, they strive for transparency in their supply chains and those of their partners.
Private Brand Sustainability, Innovation & Collaboration
Ali Schmid, Product Innovator, THRIVE MARKET
Lisa Schilling, Product Innovator, THRIVE MARKET
Terry Bleecker, SVP Customer Solutions, FRESH FROM TEXAS, LLC
Deborah Wolman, VP of Innovation and Sustainability at NATURE'S TOUCH FROZEN FOODS
Juli Lassow, Principal, JHL SOLUTIONS – Moderator
The panel will discuss the state of private brand sustainability and the role of innovation and collaboration.
The Role of Design in Private Brand Sustainability – Today & Tomorrow
Lisa Barrett, Branding & Packaging Manager, MEIJER
Allan Dougall, VP of Strategy and Client Services, THE FISH AGENCY
Maria Dubuc, President, MARKETING BY DESIGN (MBD)
Juli Lassow, Principal, JHL SOLUTIONS – Moderator
The panel will discuss how design can build and improve sustainability in private brands.
Fireside Chat: Wayfair and Fair Trade USA
Savannah Tarpey, Sustainability Manager, WAYFAIR
Jay Guzman, Retail Partnerships, FAIR TRADE USA
In this fireside chat, Savannah and Jay will discuss Wayfair's growing sustainable product offering, "Shop Sustainably," and the role of third-party certifications such as Fair Trade USA.
Insights from Retailer-owned Brand Sustainability23 Industry Research
Christopher Durham, President, VELOCITY INSTITUTE
Velocity Institute President Christopher Durham will welcome attendees and present a look inside the Institute's exclusive industry research on the state of Sustainability and Private Brands. Insights will include current attitudes and opinions, and capabilities of both manufacturers and retailers. Opportunities to grow and evolve and the potential for the future.
Sustainable Strategies: Mastering Packaging Assessment for a Greener Future
Andrew Hurley, PhD, Founder, PACKAGE INSIGHT BY QUAD &
Director of Entrepreneurship, CLEMSON UNIVERSITY
Sustainability is at the forefront of consumer packaging innovation. In this informative session, join packaging-design expert Dr. Andrew Hurley as he examines the crucial role of assessment tools in achieving packaging sustainability goals. Learn how these tools can help identify environmental impacts, promote sustainable packaging design benefits, and inform customers about your sustainability efforts. This engaging session will provide actionable insights and simple methods your company can implement today for a successful sustainability assessment of your packaging tomorrow.
Driving and Measuring Sustainability Throughout the Value Chain
Juan Antonio Rivas, Global Head – Sustainable Business Development, OFI
Solange Ackrill, VP, Corporate Strategy and Marketing CLUB COFFEE (OFI)
Juan Antonio and Solange will discuss the value of collaborating and partnering with suppliers who have a strong corporate purpose and customer-centric approach to sustainability. They will focus on key factors that enable brands and companies to meet their ESG goals through sustainable practices, tools, innovation, and packaging.
The Power of Data: Build Trust, Better Packaging, and a Better Recycling System
Katherine Huded, Vice President of Recyclability Solutions, THE RECYCLING PARTNERSHIP
The Recycling Partnership is a mission-driven NGO whose solutions support companies at all stages of your circular packaging journey. Learn how to set and prioritize sustainability strategies with time-bound targets and how those strategies could increase or reduce potential EPR fees. Move from strategy to action by implementing better packaging within your four walls and helping to build a better recycling system outside your four walls, with infrastructure and education moving the needle. We'll also highlight new technologies and partnerships to support better communication about recyclability, a critical component of reducing consumer confusion and bringing customers along on your sustainability journey. This keynote will offer real-world case studies and highlight resources to help attendees move quickly from strategy to action, including The Partnership's dynamic labeling system Recycle Check.
Conscious Consumerism
Edricco Reina, Managing Director – Retail Partnerships, SPINS
Sustainability is top of mind now more than ever, how shoppers are thinking about it and what's resonating in store. Join Edricco Reina, Managing Director of Spins, to discuss the importance of certifications, labeling, and sustainability callouts in today's retail environment. We will explore current attribute trends within sustainability and how products are evolving to meet these standards.
The Revised Retailer Report Card: Four Elements for a Safer Marketplace
Cheri Peele, Senior Project Manager, TOXIC-FREE FUTURE
Toxic-Free Future's Retailer Report Card benchmarks and scores the biggest retailers in the U.S. on their safer chemicals policies. Over the past year, the Report Card's criteria have been sharpened and reorganized. The Four Essential Elements for a Safer Marketplace provide a clear roadmap with best-in-class approaches for retailers to continuously improve the sustainability and safety of products, packaging, and operations.
Why Credible Claims Matter
Laura McDearis, US Senior Market Manager, MARINE STEWARDSHIP COUNCIL
Using seafood sustainability as a case study, I will aim to showcase why committing to sustainability and communicating with your consumers is more important than ever. However, in doing so, we must ensure we are not creating a race to the bottom. Instead, powerful and credible consumer-facing claims can drive critical improvements on the water and move an entire industry and those that rely on it toward ending overfishing, securing livelihoods and food security, and protecting both ocean and human health. She will review:
It all starts here… in our oceans. Why does seafood sustainability matter?
What is a credible claim?
Consumers are demanding more information as their concern for ocean health grows.
How the MSC and our partners showcase credibility and communicate with consumers
Why your voice and your participation matter
The Sustainable Shopper: Evolving Trends and Marketing Impact
Patti Marshman-Goldblatt, SVP Global Gateways, CIRCANA
Doug Yolen, VP of Media Center of Store, CIRCANA
Consumer purchase trends of sustainable products have shifted significantly over the past year. Today, marketing efforts focusing on sustainability messaging can drive notable sales for CPG products and reach audiences that may be on the fringes of core target demographics.
In this presentation, Circana's Patti Marshman-Goldblatt, SVP of Global Gateways, and Doug Yolen, VP of Media Center of Store, will share how sustainable consumer packaged goods are faring in this year's macroeconomic headwinds. They will explore who today's sustainable shopper is and identify what buying trends to watch when it comes to the sustainable shopper. Attendees will learn what non-edible claims are driving high percentages of sales penetration and commanding a higher price premium and which new products are including sustainability efforts in their development.