Publix Celebrate the Holidays + Sprouts, Aldi, AWG & Walmart News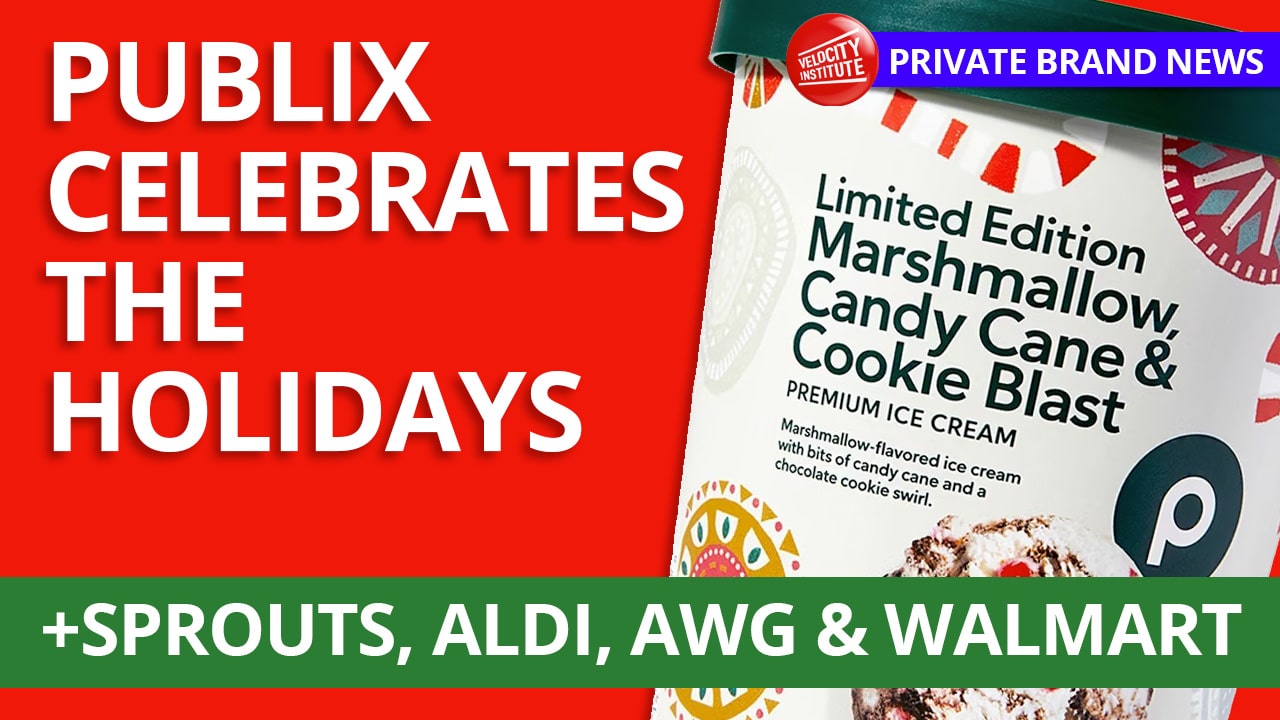 Welcome to Velocity This Week, your weekly update on the latest news and insights in the world of retailer-owned brands. I'm Christopher Durham, and in this episode, we'll dive into some exciting developments in the private brand industry. From Sprouts Farmers Market's new holiday range to Aldi's Advent and Holiday calendars and Walmart's Thanksgiving dinner kit, there's plenty to discuss. So let's get started!
Sprouts Farmers Market's Holiday Range
Sprouts Farmers Market, the national organic grocer, has recently unveiled its newest Sprouts brand holiday range. These limited-edition items are designed to capture the taste and scents of the holidays without any added colors. Kim Coffin, SVP and Chief Forager for Sprouts, expressed her excitement about the wide variety of new Sprouts brand holiday items, stating that they are carefully curated and developed with better-for-you ingredients without sacrificing flavor.
Some of the featured Sprouts brand holiday items include holiday bark, mint chocolate dipped coconut rolls with sprinkles, white chocolate and peppermint popcorn, hibiscus cranberry tea chocolate, and peppermint rolled wafers Santa hats, hot tea bombs, classic holiday sugar cookies, and peppermint body care products. Additionally, there's a white chocolate peppermint bark coffee for those who enjoy a festive twist to their morning cup of joe.
Aldi's Advent and Holiday Calendars
Aldi, the small discount grocer, is known for its popular Wine Advent calendar. This year, they are expanding their offerings with a range of Advent and Holiday calendars. These calendars will go on sale on November 1, and they feature a variety of exciting options.
Among the highlights are scented candles, sparkling wines, puzzles, and coffee. Aldi's premium chocolate brand, Moser Roth, also introduces a chocolate Advent calendar. The calendars offer a fun and festive way to count down to the holidays, and they have become a highly anticipated tradition for many Aldi shoppers.
AWG Brands Wins Golden Penguin Award
Associated Wholesale Groceries (AWG) Brands, the private brand team of AWG, has been named a 2023 Golden Winner in the National Frozen and Refrigerated Foods Association (NFRA) Golden Penguin Awards competition. This prestigious award recognizes AWG Brands' outstanding marketing and merchandising efforts in support of the March Frozen Food Month campaign.
The winning campaign, Frozen Food Madness, involved a digital bracket challenge featuring AWG's Best Choice brand. Consumers were invited to fill in their predictions for the matchups between various Best Choice frozen food products. The product that received the most votes in each matchup advanced to the next round, and the ultimate winner was the Best Choice Peach Cobbler.
The campaign was a huge success, with increased engagement on the Best Choice Facebook and Instagram accounts. Popular product matchups such as breakfast items, desserts, and ice creams received the most engagement, showcasing the power of creative marketing in driving consumer interest and sales.
Publix's Limited Edition Ice Cream Flavors
Florida-based Publix has launched nine limited edition retailer-owned brand ice cream flavors for the fall-winter season. Most of these flavors are available in quart-sized cartons, while three flavors, Peppermint Stick, Pumpkin Pie, and Santa's White Christmas, are only available in the half-gallon size.
The flavors include Caramel Mountain Tracks, toffee-flavored ice cream with ribbons of Mackinac caramel and praline pecans; Deep Dish Apple Pie; Eggnog; Marshmallow, Candy Cane, and Cookie Blast; Classic Pecan Turtle; Fudge Peppermint Stick; Pumpkin Pie; Santa's White Christmas, which combines Barney's Santa White Christmas coffee with cocoa and espresso flakes; and Snickerdoodle, brown butter-flavored ice cream with cinnamon graham crumb swirls and graham cookie pieces.
These limited edition flavors offer a delightful range of options for ice cream lovers during the holiday season, and they showcase Publix's commitment to providing unique and delicious products under their retailer-owned brand.
Walmart's Thanksgiving Dinner Kit
Walmart is making Thanksgiving dinner preparation easier and more affordable with its Thanksgiving Meal Baskets. These baskets, featuring Walmart's Great Value brand, are available at prices lower than last year. The promotion includes three boxes ranging from $30 to $77, with the $30 Thanksgiving Meal Basket serving six people.
The $30 Thanksgiving Meal Basket includes a 16-pound frozen turkey, chicken stuffing mix, canned turkey gravy, French fried onions, instant mashed potatoes, canned whole kernel corn, canned cut green beans, canned cream of mushroom soup, jellied cranberry sauce, and a pack of rolls – all under the Great Value brand. This comprehensive kit provides everything you need to create a traditional Thanksgiving meal at an affordable price.
Conclusion and Future Outlook
In this week's retailer-owned brand news, we've seen exciting developments in the private brand industry. Sprouts Farmers Market's holiday range offers a wide variety of limited-edition items that capture the essence of the holidays. Aldi's Advent and Holiday calendars provide a fun and festive way to count down to the holidays, with options ranging from scented candles to sparkling wines. AWG Brands' Golden Penguin Award win highlights the power of creative marketing in promoting private brand campaigns. Publix's limited edition ice cream flavors offer a delicious range of options for the fall-winter season. And Walmart's Great Value Thanksgiving dinner kit provides an affordable and convenient solution for holiday meal preparation.
These developments demonstrate the continued growth and innovation in the retailer-owned brand space. Retailers are investing in creating unique and high-quality products that cater to consumer preferences and offer value for money. As private brands continue to gain popularity, we can expect to see even more exciting and innovative offerings.
So, whether you're looking for holiday treats, a fun way to count down to Christmas, or an affordable Thanksgiving meal, retailer-owned brands have you covered. Stay tuned for more updates and insights from the world of retailer-owned brands.
Thanks for watching, and don't forget to like and subscribe.