Full of thirst? Edeka Launches Playful New Brand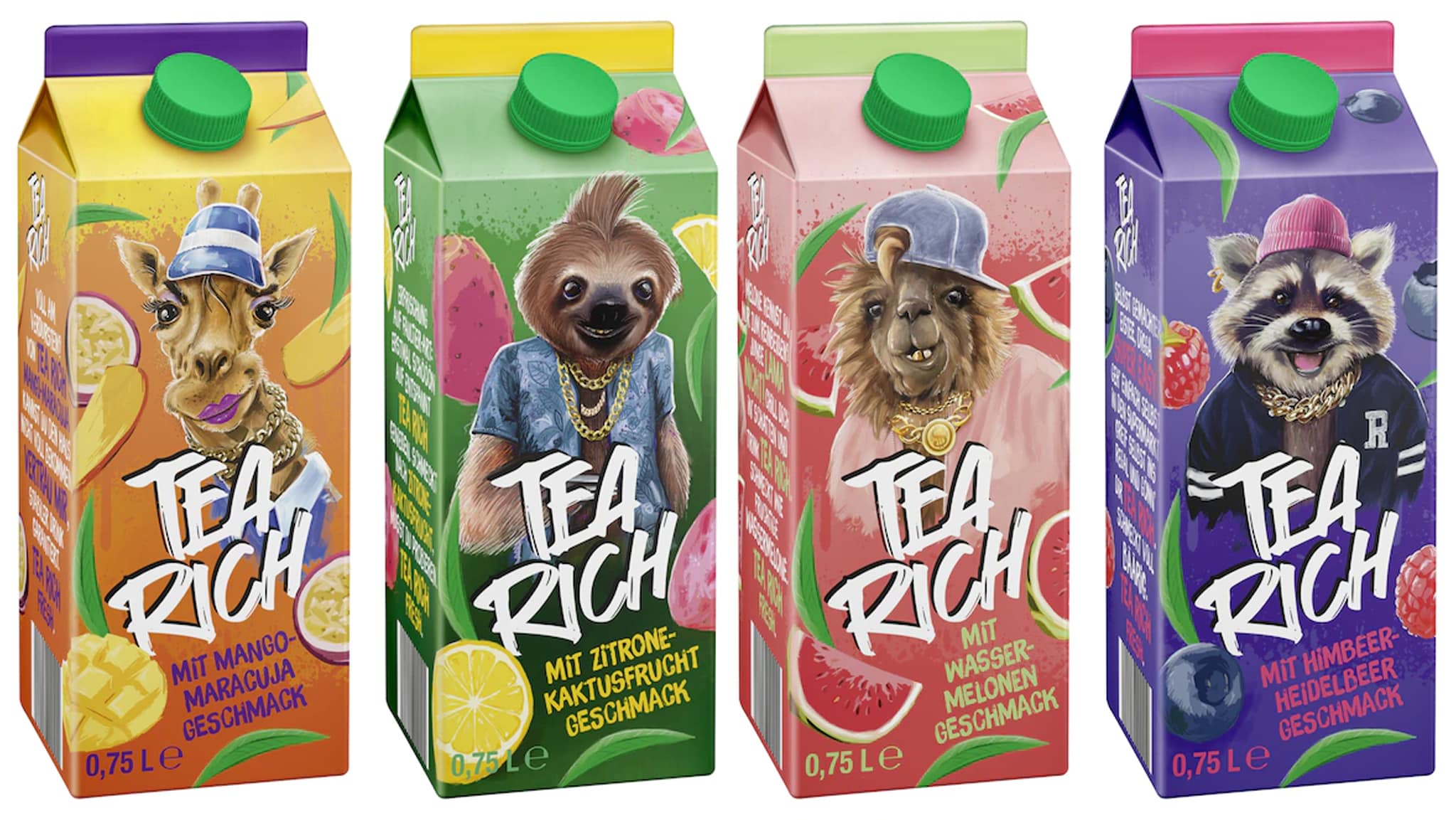 Loud, colorful and rebellious, the four exciting flavors of the new private brand of the EDEKA group will hit the shelves in mid-August 2022. In terms of taste and appearance, the colorful TEA RICH iced teas stand out from the crowd thanks to bright accents and irresistible mixtures. Each variety has its own color and taste: exotic-fresh watermelon in upbeat red tones, tropical-sweet mango-passion fruit in fruity orange-yellow, tart lemon-cactus fruit in juicy green and unmistakable raspberry-blueberry in berry purple. This not only whets the appetite, but thanks to the animal characters, it also puts you in a good mood.
Positive vibes – casual refreshment
"Fat remix of iced tea and flavor!" – with a relaxed brand language and self-confident statements, the four varieties of TEA RICH iced tea appeal to the younger target group in particular. Made with black tea extract, each variety inspires with its very own taste experience. Whether watermelon, mango-passion fruit, lemon-cactus fruit or raspberry-blueberry – TEA RICH provides a varied refreshment for that certain extra on the tongue. Variety in the glass? No probLAMA – pre-programmed with us from now on. Thanks to bright accents, the new portfolio brand also breaks with the classic design of other ice tea brands in the range and is a real eye-catcher. Not least thanks to animal support. Is that because of the gold chains? Llama, giraffe, sloth and raccoon always score points with their casual looks.
TEA RICH iced tea
new portfolio brand
Tea drink made from black tea extract
in four fruity flavors: watermelon, mango-passion fruit, lemon-cactus and raspberry-blueberry
modern design with bright accents
Content: 750ml