CVS Pharmacy Innovates with New QuickServe Vitamin System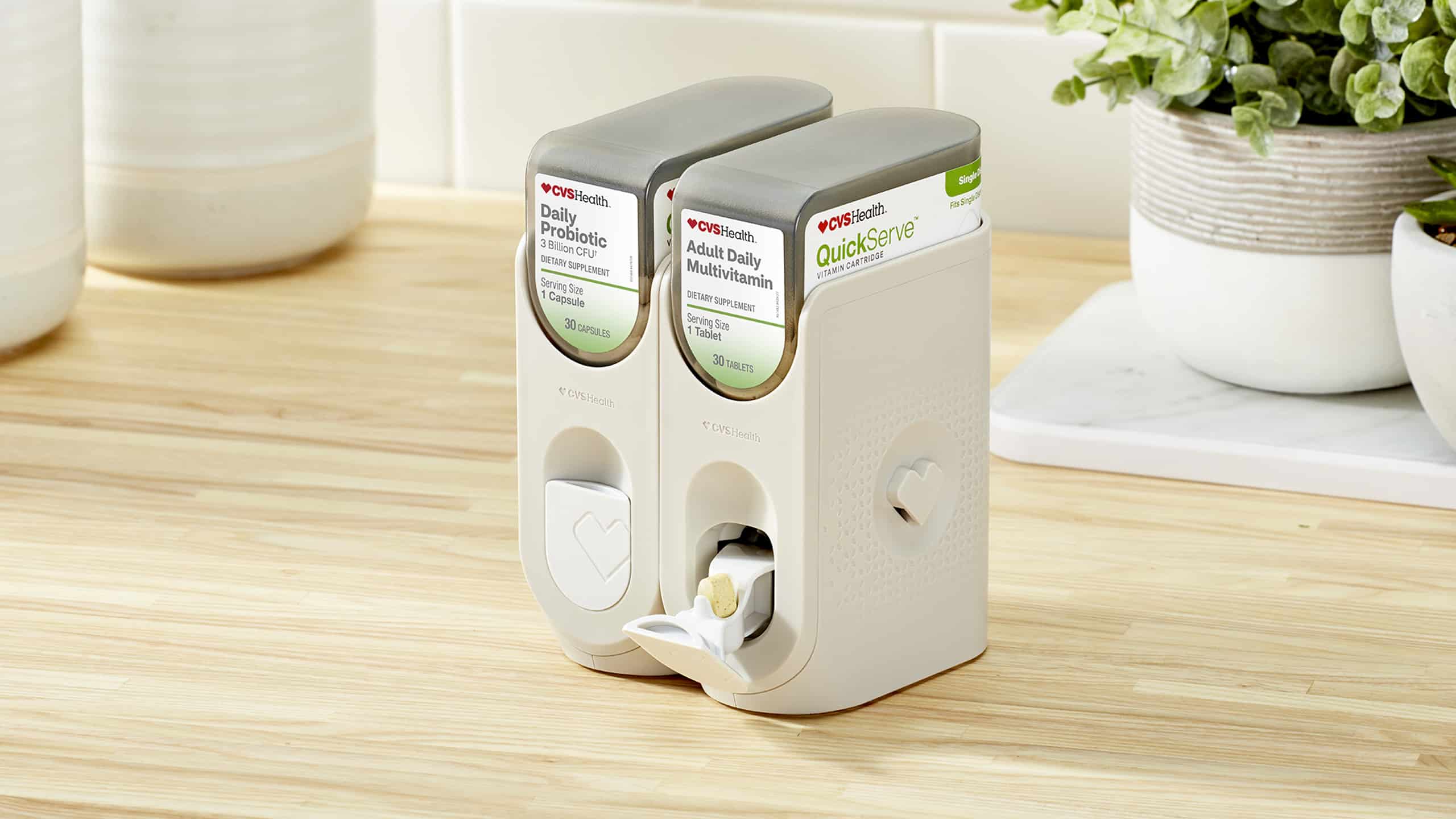 Late last week, CVS Pharmacy announced the launch of its CVS Health QuickServe Vitamin Dispensing System. This easy-to-assemble vitamin dispenser holds a 30-day supply of select CVS Health vitamins and supplements. Its sleek countertop design promotes "vitaminimalism" — simplifying vitamin and supplement routines, eliminating the clutter of pill bottles, and keeping vitamins and supplements front and center, which may help increase adherence and enhance self-care regimens.
According to a recent consumer survey conducted by CVS Pharmacy, more than half of Americans (63%) are looking to refresh their routines to increase productivity and efficiency. With 4 in 5 Americans taking vitamins and supplements as part of their self-care routine, 75% of those surveyed have forgotten to take them in the past year, with 2 out of 5 people admitting they forget to take them at least once a week. Almost half of vitamin and supplement takers surveyed say they'd be more likely to remember to take them if they were on the kitchen or bathroom counter.

QuickServe is an organized, easy-to-use vitamin and supplement system comprising a reusable dispenser base and pre-filled vitamin and supplement cartridges. Consumers can easily access a vitamin or supplement by opening the door with a fingertip, after which a single pill is dispensed in the slot. For added convenience, several bases can be joined together through the heart connector on the side of the dispensers to create a system. Starter kits include a dispenser base and a specific vitamin cartridge, but both items may also be purchased separately.
"Making health care simpler is at the heart of everything we do and key to how we approach innovating health and wellness solutions. Through research, we learned that consumers are looking for an easier way to organize taking vitamins and supplements," said Heather Corkery, Executive Director of Store Brands. "With QuickServe, we are offering a simple and smart solution that integrates seamlessly into people's lifestyle."
The QuickServe system features a range of vitamin and supplement cartridges. Consumers can choose from five vitamin or supplement cartridges, including Calcium, probiotics, multivitamin, Magnesium, and Turmeric + Black Pepper. By fall 2023, CVS Health plans to introduce additional QuickServe vitamin and supplement cartridges such as Zinc, Vitamin D3, Biotin, Melatonin, Vitamin B12, and Vitamin C.