Walmart Launches Exclusive Chef Gordon Ramsay Frozen Entrées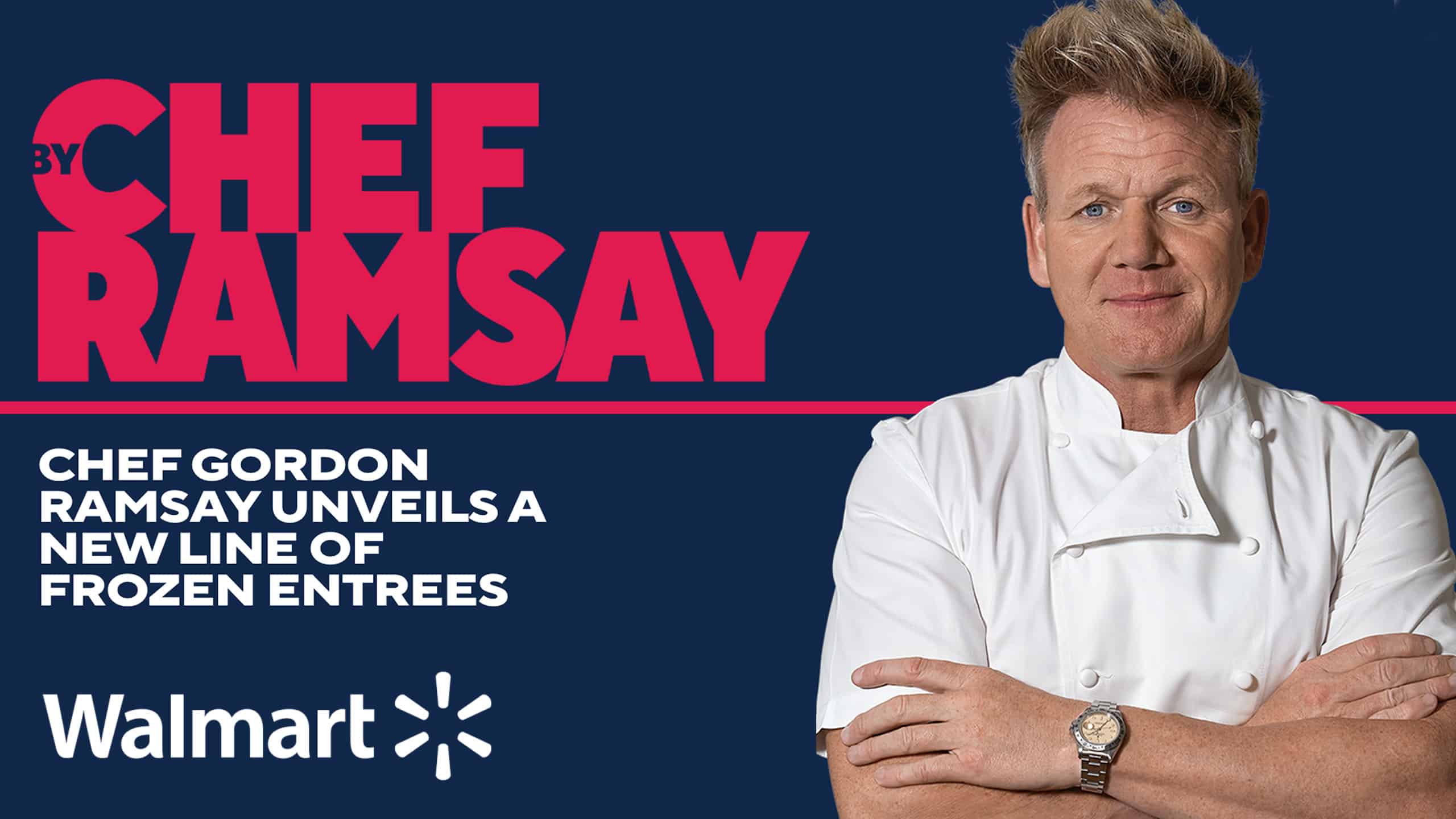 This week Walmart launched a new exclusive range with internationally renowned, multi-Michelin starred chef, Gordon Ramsay, today announced the launch of his first frozen entrée line, By Chef Ramsay. Created by Gordon Ramsay himself, each recipe is crafted with the Chef's culinary prowess and true quality ingredients. By Chef Ramsay features eight iconic and delicious recipes, like Ramsay Family Lasagna, Chicken Pot Pie, and Fish & Chips, all available now exclusively at Walmart stores nationwide. The range is manufactured by Golden West Food Group.
By Chef Ramsay was created to bridge the gap between the famous dishes we've all seen on TV and in the Chef's own restaurants by delivering the same highly-acclaimed taste and quality Chef Ramsay is known for, but at home for the first time. Now anyone can experience Chef Ramsay's mouthwatering dishes, anytime, in just minutes – all at an affordable price.
"I'm elated to bring my favorite dishes into homes across the country," said Chef Gordon Ramsay. "These recipes are representative of my lifelong work and commitment to incredible taste and quality, and they each represent a special part of my personal culinary journey. It thrills me that these dishes are so widely available for anyone to experience, and I hope they inspire the home chef in everyone."
The By Chef Ramsay lineup includes:
Chicken Pot Pie – A classic comfort dish of oven roasted, tender white meat chicken with a medley of vegetables combined in a creamy gravy topped with a flaky butter pastry.
Fish & Chips – Crispy beer battered fish served with traditional British style thick cut chips.
Four Cheese Macaroni Bake – A decadent cheese blend of mozzarella, fontina, parmesan and provolone tossed with al dente pasta topped with golden cornbread crumbs.
Lasagna – Tender pasta sheets rolled with an herb blend of ricotta, parmesan and romano cheese topped with Bolognese sauce and mozzarella.
Lemon Caper Chicken – Herb breadcrumb crusted chicken breast cutlet with seasoned potatoes and broccoli florets in a velvety white wine, lemon, and caper sauce.
Mushroom Risotto – A rich creamy risotto with a hearty mix of portabella mushrooms, caramelized onions and tender arborio rice delicately combined with white wine and finished with parmesan cheese and chives.
Shepherd's Pie – A classic British dish filled with ground beef and vegetables stewed in a rich tomato sauce smothered with buttery mashed potatoes and topped with white cheddar cheese.
Slow Roasted Beef – Slow roasted tender cuts of beef in a savory red wine sauce with smoked bacon, carrots, mushrooms, and pearl onions. Served with seasoned potatoes.