Global Retail Brands Magazine Interview with Christopher Durham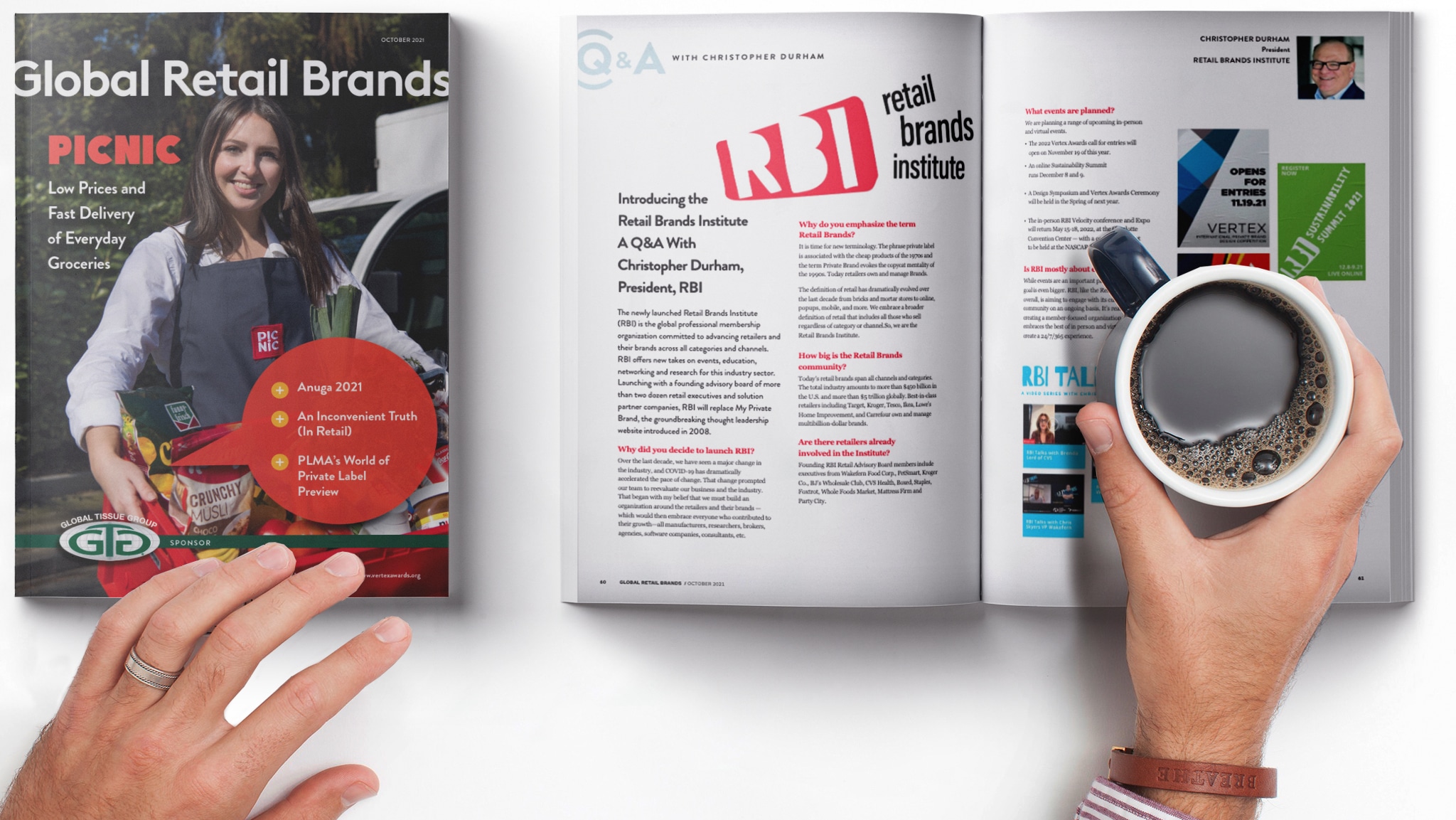 Take a look we were featured in an interview in Global Retail Brands Magazine. The magazine chatted with Christopher Durham about the launch of RBI.
A Q&A With Christopher Durham, President, RBI
The newly launched Velocity Institute (RBI) is the global professional membership organization committed to advancing retailers and their brands across all categories and channels. RBI offers new takes on events, education, networking and research for this industry sector. Launching with a founding advisory board of more than two dozen retail executives and solution partner companies, RBI will replace My Private Brand, the groundbreaking thought leadership website introduced in 2008.
Why did you decide to launch RBI?
Over the last decade, we have seen a major change in the industry, and COVID-19 has dramatically accelerated the pace of change. That change prompted our team to reevaluate our business and the industry.  That began with my belief that we must build an organization around the retailers and their brands — which would then embrace everyone who contributed to their growth—all manufacturers, researchers, brokers, agencies, software companies, consultants, etc.
Why do you emphasize the term Retail Brands?  
It is time for new terminology. The phrase private label is associated with the cheap products of the 1970s and the term Private Brand evokes the copycat mentality of the 1990s. Today retailers own and manage Brands.
The definition of retail has dramatically evolved over the last decade from bricks and mortar stores to online, popups, mobile, and more. We embrace a broader definition of retail that includes all those who sell regardless of category or channel.
So, we are the Velocity Institute.
How big is the Retail Brands community?
Today's retail brands span all channels and categories. The total industry amounts to more than $450 billion in the U.S. and more than $5 trillion globally. Best-in-class retailers including Target, Kroger, Tesco, Ikea, Lowe's Home Improvement, and Carrefour own and manage multibillion-dollar brands.
Are there retailers already involved in the Institute?
Founding RBI Retail Advisory Board members include executives from Wakefern Food Corp., PetSmart, Kroger Co., BJ's Wholesale Club, CVS Health, Boxed, Staples, Foxtrot, Whole Foods Market, Mattress Firm and Party City.
What events are planned?
We are planning a range of upcoming in-person and virtual events.
The 2022 Vertex Awards call for entries will open on November 19 of this year.
An online Sustainability Summit runs December 8 and 9.
A Design Symposium and Vertex Awards Ceremony will be held in the Spring of next year.
The in-person RBI Velocity conference and Expo will return May 15-18, 2022, at the Charlotte Convention Center — with a cocktail party set to be held at the NASCAR Hall of Fame.
Is RBI mostly about events?
While events are an important part of RBI, the overall goal is even bigger. RBI, like the Retail Brands industry overall, is aiming to engage with its customers and community on an ongoing basis. It's really about creating a member-focused organization that embraces the best of in person and virtual to create a 24/7/365 experience.
What are some of the ways RBI will engage with members on an ongoing basis?
You can get a good sense of our engagement strategies from the new website (https://velocityinstitute.org/) experience. It includes features ranging from news (called RBI Incites) and videos (RBI Talks) to a comprehensive membership directory and social community. Other RBI offerings include exclusive consumer research and industry benchmarking; an executive education program in partnership with Cornell University, and opportunities for involvement in RBI working groups and share groups.
What will be the role of manufacturers and other partners?
While retailers are in charge of their Brand efforts, solution partners including manufacturers must play meaningful roles.
RBI members include solution partner organizations — such as manufacturers, ingredient and packaging companies, marketing agencies, design partners, and other companies. Inaugural Solution Partner Advisory Board members include executives from Oracle, Radienz Living, Daymon, Federated Group, CBX, Fair Trade USA, Marketing by Design, Catania Oils, FedUp Foods, Paramount Coffee, Red Monkey Foods and Wyandot Snacks.
How has the industry response to RBI been so far?
We launched RBI at our Innovation Summit and the surprise announcement has been overwhelmingly praised by the Industry.
Comments on LinkedIn about the launch have included:
"A great launch! As always you are pushing to the next level, and supporting this important industry. This will benefit, Retailers, Manufacturers, and ultimately Consumers."
"Big bold move and reflective of where our brands are and where they're headed!"
"Great job of bringing together so many key players in the retail brands arena — retailers, suppliers and solution partners. You are addressing a void that existed in the marketplace. Congratulations to you and your team!"
How can industry companies get involved?
Our modern membership model includes a freemium basic level and plus- and pro-level paid memberships. Companies can learn more and sign up on the RBI website.
Any closing thoughts about future prospects for the Retail Brands industry?
It is an exciting time for Retail Brands; the potential is unlimited for those who embrace change, learn, test, and grow.