Wawa and Cape May Brewing pour "Shore Tea" Hard Beverage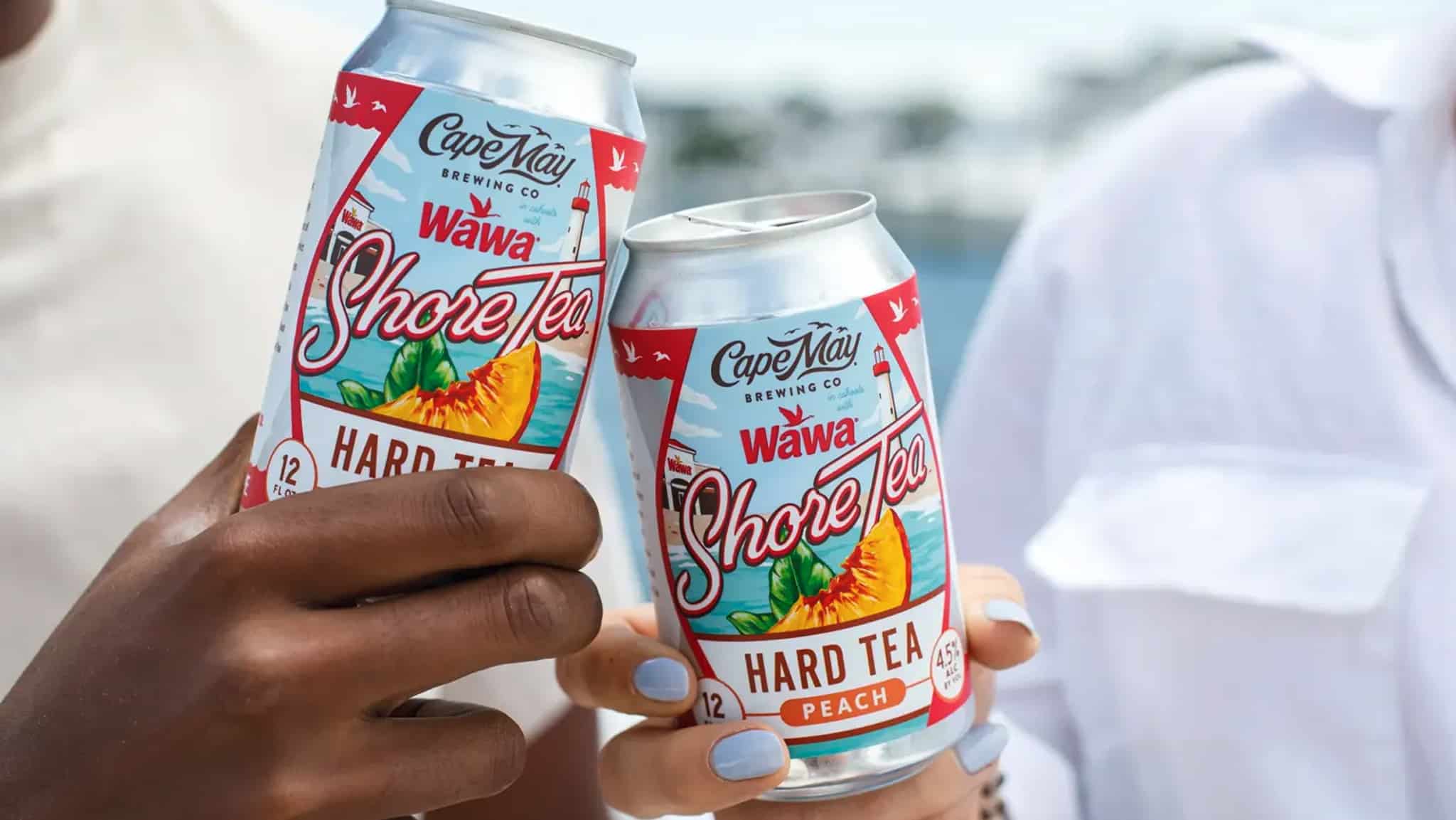 Iconic convenience retailer Wawa and Cape May Brewing Company announced its first collaboration and release of a limited-edition "Shore Tea," hard tea beverage at Wawa's Grand Opening of its newest beer store in Bucks County, Cape May Brewing Co. Tasting Room and select retailers. Made with Wawa's signature Retail Brand (private brand) Peach Iced Tea and Cape May's adult libations, the hard tea is lip-smackingly refreshing with just the right amount of sweet kick.
Shore Tea is available in limited quantities of 6-pack 12 oz cans, with 4.5% ABV. All ingredients used are naturally gluten- free and this beverage contains no peach juice. 6-pack cost is $12.99.
"We're excited to stretch our wings and fly South to the New Jersey Shore to partner with Cape May Brewing Company to produce our first-ever hard tea with a customer favorite: Wawa's Peach Iced Tea," said Michael McLaughlin, Senior Manager of Concept Development, Wawa. "Wawa's Peach Iced Tea captures the aroma and flavors of biting into a freshly picked peach at the height of ripeness, and pairs it perfectly with the warm carmelic tones of our Signature Black Iced Tea. Fragrant, juicy & sweet with just the right amount of acidity and a sweet tea finish."
"We were excited when Wawa reached out to us with the possibility of collaborating. We're huge fans, and many of our crew members make Wawa a regular part of their routines," said Ryan Krill, CEO & Co-Founder, Cape May Brewing Company. "We're thrilled that we have the opportunity to continue to expand into the hard beverage space with an incredible partner to bring fans a product that they'll love."
"We approached the process of making this tea similar to how we make our seltzers. We kept it simple, just like if you were going to make tea at home. Fortunately, we were able to use the same ingredients that Wawa uses in their peach tea," said James Fox, Director of Brewing Operations, Cape May Brewing Company. "After the alcohol was added, we had several benchtop trials to dial in the ratios and flavors. We are really happy with how this turned out; it's easy to forget that it's hard tea."