Dollar General Introduces OhGood! Vitamin Gummies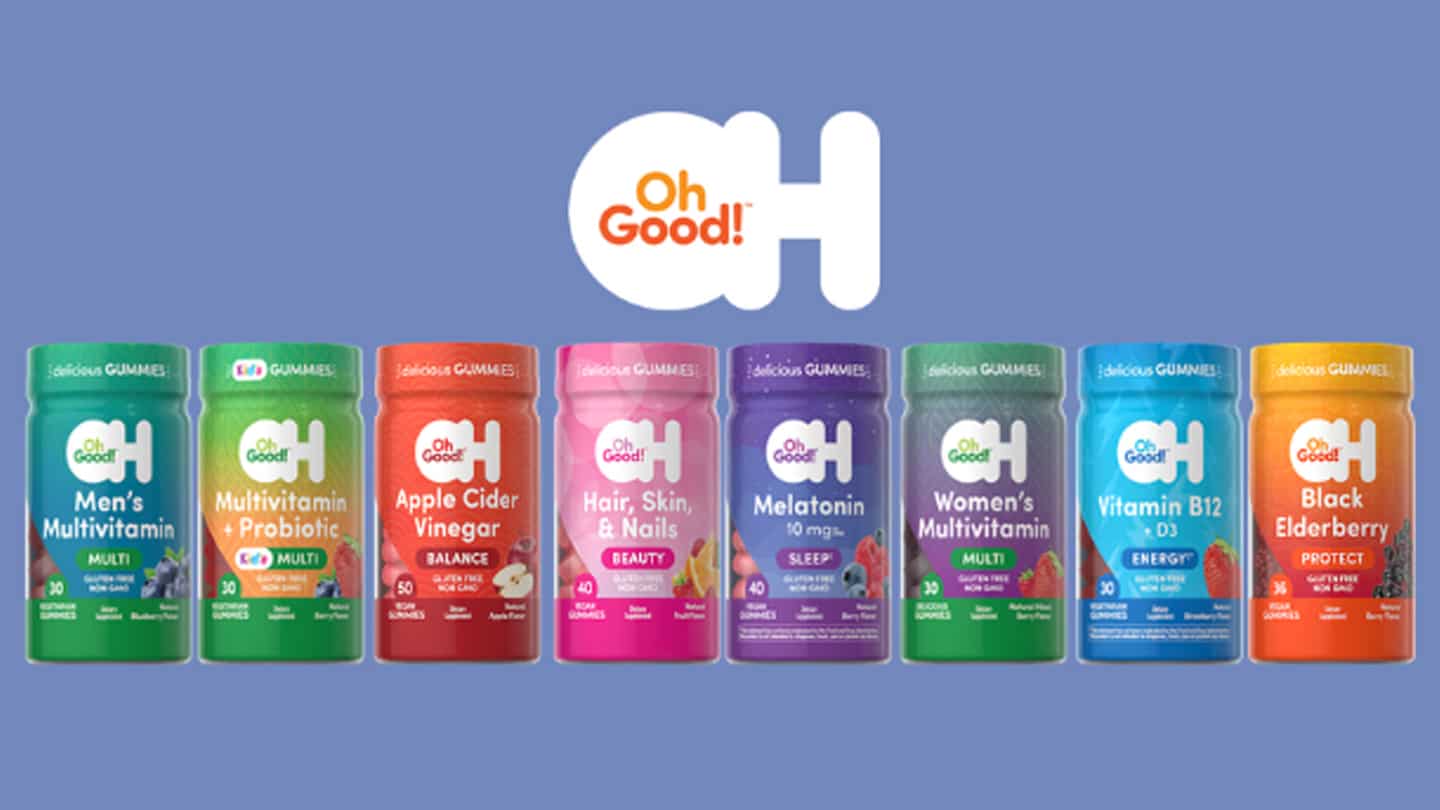 Goodlettsville, Tennessee-based discount retailer Dollar General announced this week the launch of the new health and wellness supplement Retail Brand (private brand) OhGood!
"Vitamins and supplements can be beneficial for many of our customers, particularly those with certain medical conditions or dietary restrictions," said Albert Wu, Dollar General's chief medical officer. "In those instances, gummies can be an option and may promote adherence to a daily regimen."
The OhGood! line of gummy vitamins supply nutrients that help make everyday wellness routines easy, fun and delightful, offering a way for both adults and kids to enjoy daily nutritional support. The entire line of 18 items is made with clean ingredients, non-GMO, gluten free and made with natural flavors. Additionally, select products within the line are vegan or vegetarian. Approximately 10 OhGood! gummy vitamin products are available chain-wide with the complete product line being available at approximately 6,000 Dollar General stores.
"Everything we do at Dollar General is centered around our customers," said Jackie Li, senior vice president of private brands and global sourcing at Dollar General. "As health and wellness is top of mind with our shoppers, we are proud to deliver this line of high quality gummy supplements exclusively at Dollar General under our own brand, OhGood!. These items will not only aid our customers' daily needs but will do so at a fantastic value."
Overall Wellness:
Vitamin D: Natural levels of Vitamin D can decline if you spend most of your time indoors or just as you get older. At a strength of 1,000 IU, these delicious natural pineapple flavored Vitamin D gummies will nourish your body with the recommended daily requirement.
Black Elderberry: Oh Good! Black Elderberry gummies deliver 400 mg of Sambucus Black Elderberry, from 100 mg of 4:1 extract. These gummies also include Vitamin C, and an excellent source of the essential mineral Zinc. Name a more fun (and delicious) way to get three nutrients in one formula!
For the Whole Family:
Women's Multivitamin: These mixed berry-flavored gummies are made with natural flavors only – no artificial flavors whatsoever. Two delicious gummies each day can help you meet your daily requirement for more than 10 essential letter vitamins and minerals, including Vitamins C, D, and Folic Acid.
Men's Multivitamin: These blueberry-flavored gummies are made with natural flavors only and contain no artificial sweeteners. Two delicious gummies each day can help you meet your daily requirement for more than 10 essential vitamins and minerals, including vitamin B-12, vitamin C, vitamin D3, and zinc.
Kid's Multivitamin + Probiotic: Each yummy gummy serving provides several essential vitamins and minerals for growing bodies, along with Bacillus Coagulans, a friendly bacteria and probiotic.
Everyday Essentials:
Apple Cider Vinegar: For 400 mg of Apple Cider Vinegar, all you need is two delicious, vegan, natural apple flavored gummies. They are easy-to-take, have no harsh aftertaste, and taste like you're biting into a fresh apple.
Hair, Skin and Nails: Each delicious serving provides 2,500 mcg of Biotin (vitamin B-7), a high-potency source of the important B vitamin. Enhanced with vitamins C and E, these fruit flavored gummies are made with natural flavors only and contain no artificial sweeteners.
Energy & Sleep:
Vitamin B12 + D3: Vitamin B12, a water-soluble vitamin your body needs but cannot make naturally, is paired with Vitamin D3, a fat-soluble vitamin that goes by the nickname the "sunshine vitamin" for your body's ability to produce it after sunlight exposure.
Melatonin (Available in 5mg and 10mg): Melatonin is a hormone that is naturally produced by our bodies as a response to darkness, to help prepare the body for rest. As adults get older, Melatonin levels may begin to decline, and taking these delicious gummies is a convenient option for when it's time to catch some of those sweet Zzzs.

Available in Select Dollar General Stores
Probiotic: One vegan Probiotic Gummy delivers 5 mg of Bacillus Coagulans, which contains 1 billion effective cells at the time of manufacture. These tropical-flavored gummies are made with natural flavors and supply ginger root extract, along with the digestive enzymes papaya and pineapple.
Zinc: A simple and delicious way to ensure you're getting your daily dose of Zinc. These mixed berry gummies are made with natural flavors and deliver 50 mg of Zinc per serving. Zinc is an essential mineral that the body needs every day, and these gummies are a delicious way to fulfill your daily value.
Vitamin C + Zinc: A vegan and delicious way to get a high-potency source of these two essential nutrients. These great tasting lemon-flavored gummies can help you meet your daily requirement for both vitamin C and zinc.
Kids C + Zinc: Vitamin C is one of the most important vitamins for kids and adults alike, and Zinc is one of the most necessary minerals. The body cannot make vitamin C nor zinc on its own though, so making sure your kids are getting enough from their daily diet is essential. Giving your child a fresh supply of vitamin C and Zinc every day has never been easier than with Oh Good! Vitamin C + Zinc gummies for kids!
Cranberry: Bursting with natural fruit flavors, these delicious vegan gummies deliver 500 mg of this important superfruit (from 10 mg of a 50:1 extract) in a one-per-day dose. Cranberries are considered a natural source of proanthocyanidins (PACs) and are a great way to get a concentrated source of this superfruit every day.
Kids Melatonin: Created with children's nutritional needs in mind, Oh Good! Melatonin gummies for kids are a yummy addition to their nightly routine. Each natural cherry pomegranate vegan gummy delivers a low dose of Melatonin for kids and is drug-free, gentle, and effective. One naturally flavored gummy vitamin before bedtime is a fun way for kids to enjoy a supplement made just for them, to help with occasional sleeplessness.†
Collagen: Naturally flavored and absolutely delicious! Each strawberry gummy serving supplies two types of hydrolyzed collagen (types 1 and 3) to add to your daily beauty routine.
Prenatal + DHA: These delicious fruit-flavored gummies can help you meet your daily requirement for 10 essential vitamins and minerals, including an excellent source of Folic Acid – an important vitamin for women, especially around the time of pregnancy. Prenatal + DHA gummies supply key vitamins and minerals for women who are thinking about becoming pregnant, are currently pregnant, and those who have recently welcomed a baby.