Target Collabs with Tabitha Brown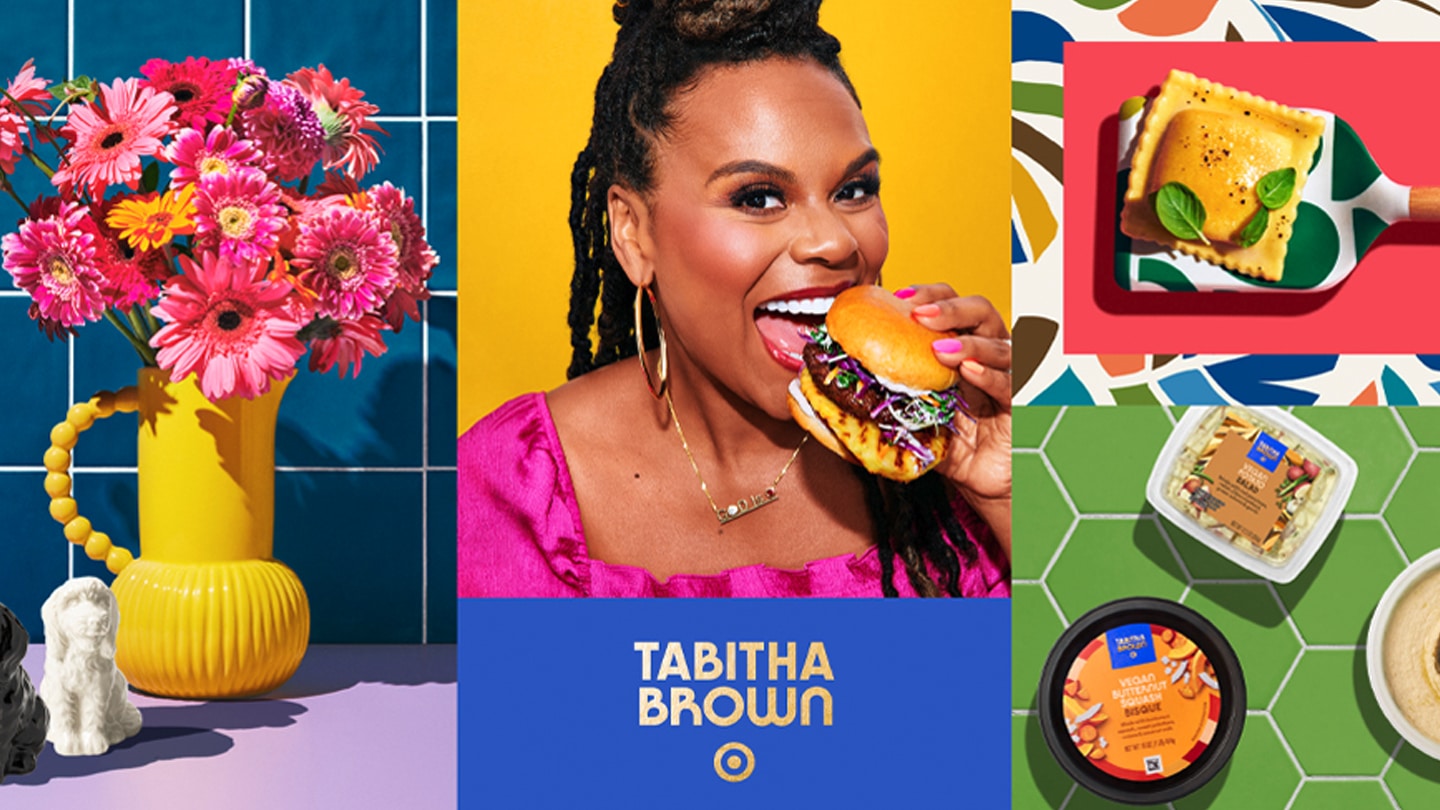 In May of last year, Minneapolis-based Target announced an ongoing partnership with actress, New York Times bestselling author, and social media phenomenon Tabitha Brown, encompassing four limited-time-only collections launching summer 2022 through spring 2023.
Celebrated for her daily doses of encouragement, Tabitha Brown is teaming up with Target to deliver positive well-being and joy for shoppers through her vibrant and inspirational style.
Known as "America's Mom," Tabitha Brown is a two-time Emmy-nominated actress, two-time New York Times bestselling author, vegan foodie, and social media personality. She gained popularity with her viral video content that irresistibly spreads joy, earning the title of one of TikTok's top 10 creators in 2020 and amassing a loyal following of nearly 5 million. Today, Brown stars in a YouTube original kids' show, has a reoccurring role on Showtime's "The Chi," co-owns a vegan restaurant, and authored two bestselling books.
"Our guests love what we've done in our partnership with Tabitha Brown, and I can't wait for them to see this new collection – featuring vegan food items, refrigerated foods, meal solutions, and a range of kitchen and tabletop essentials. Tabitha's cooking has brought joy to countless people and you can see how this collection is incredibly close to her heart. There's just so much here to help our guests bring nourishment and joy to their friends and family." said Jill Sando, executive vice president and chief merchandising officer, Target.
The collections span categories across apparel, swim and accessories items, home and office, food and kitchenware, entertaining and more.
The first limited-time collection, which launched June 11, 2022, featured apparel, swim and accessories in sizes XXS-4X and ranged in price from $10-$44, with most items under $30.
The second limited-time collection, which launched Aug. 6, 2022, was all about home — including stationery, office organization essentials, wall décor and accents, furniture, giftables and pet items. The collection ranged in price from $5-$300, with most items under $30.
Tabitha Brown for Target is a progression of Target's existing relationship with Brown, who has been an influencer partner for two years. This partnership is one of the many ways Target is continuing to support Black-owned businesses and partner with Black talent, creators and designers, as part of our Racial Equity Action and Change (REACH) commitment.
"Bringing people together over food makes my heart full, and I feel blessed to continue spreading nourishment and joy to Target's guests," said Tabitha Brown. "My goal for this third collection is to deliver Tab-approved vegan food options that taste good and feel good for the soul, and entertaining tools and essentials to help spread the love during mealtime with loved ones. I want to encourage y'all to be more intentional with what you feed your body so you can go on and shine your way. Set your table, set your intentions."
The third collection
The third Tabitha Brown for Target collection includes vegan food, cookware and kitchen essentials, tableware and entertaining items. The assortment focuses on nourishment for the mind, body and soul with delightful everyday favorites for the kitchen and pantry that will bring love to every home and gathering.
The collection ranges in price from $2.99-$90, with most items under $10.
Grocery: vegan dips/spreads, soups/sauces, snacks, pastas, meat-less proteins ($2.99-$7.99)
Tableware: drinkware, bowls, plates, pitchers, napkins, serving sets ($3-$20)
Cookware and kitchen essentials: skillets, utensils, kettles, cutting boards, oven mitts, towels ($5-$30)
Kitchen décor and accessories: table linens, stationery, fruit bowls, shakers and dispensers, rugs ($5-$90)
Food storage and totes: reusable tote bags, portable containers, and tumblers ($8-$18)
Beginning Sunday, January 8, 2023, shoppers may buy the collection on Target.com and in most Target stores.