Get Dinspired! Sainsbury's Pop-Up Offers Meal Kits & Gives Back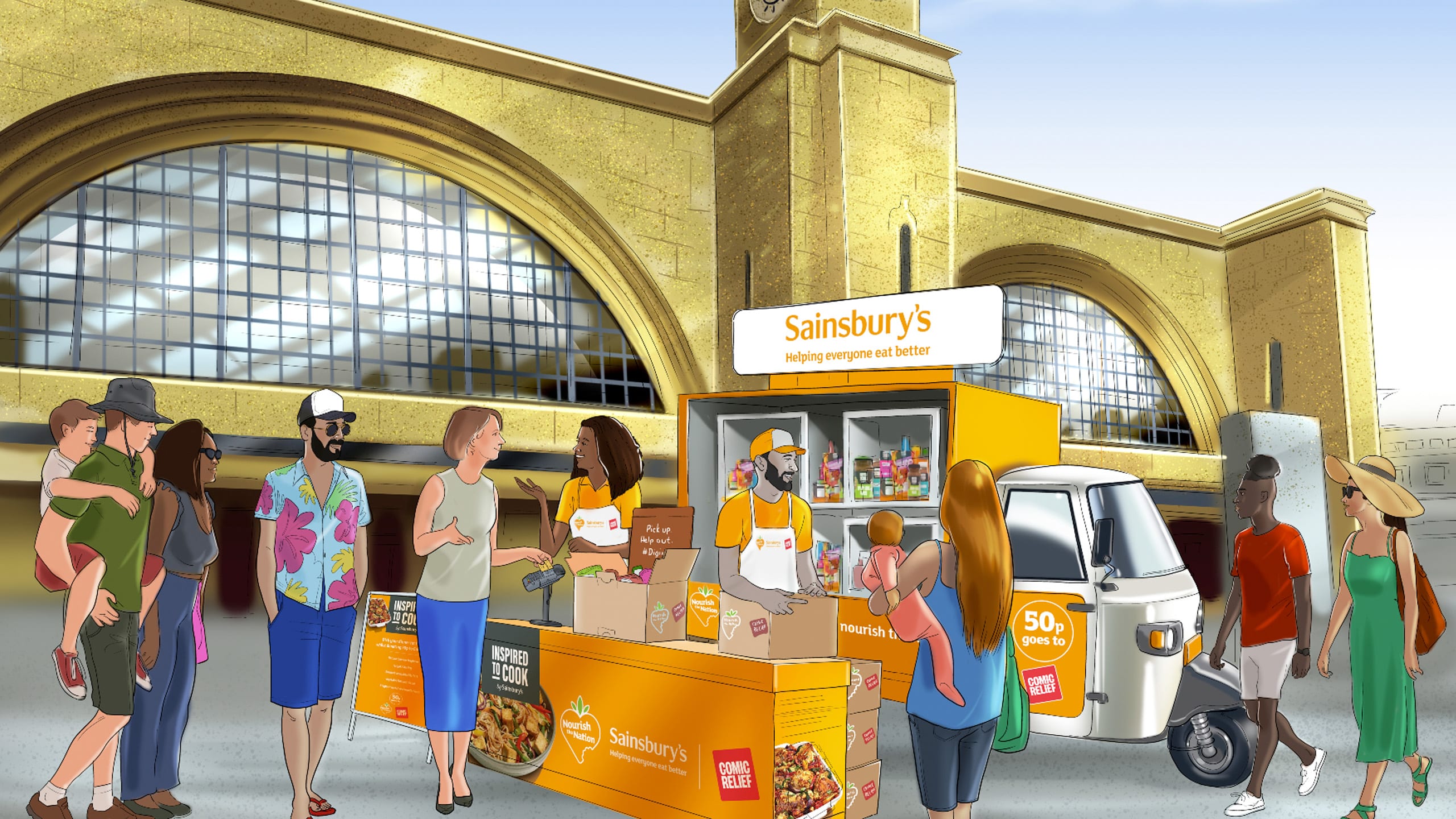 Next stop, dinnertime? Research by British grocer Sainsbury's has revealed that deciding what to cook for dinner is high on the agenda for commuters, with 74% saying they think about their evening mealtime on their journey home.
Mid-week dinners seem to be missing variety due to this on-the-go attitude, with 63% of Brits admitting they struggle to come up with healthy meal options for dinner, citing lack of inspiration as the key reason behind this (32%).
Over a quarter (27%) of Brits confirmed they would vary their meals more often if it was quick and easy to do, with an additional 25% saying they would like to introduce healthy recipes and variety into mealtimes. Over 50% of Brits confirmed they cook between one and four dishes on repeat each month.
Sainsbury's is serving up a dose of 'DINspiration' and helping to solve this dilemma with a new two-day pop-up in London's Kings Cross, offering commuters a flavorful and healthy grab-and-go Sainsbury's-owned Brand meal kit for two, containing ingredients from its Inspired to Cook brand, alongside fresh ingredients and recipes needed to cook the meals at home.
Hungry commuters will be able to pick up a meal kit for just 50p (62.5¢ USD.) with all proceeds donated to Comic Relief. The amount raised from these sales highlights a wider initiative by Sainsbury's, in which the retailer will donate 50p for every product sold from its Inspired to Cook range in-store and online from now until 11th July.
This forms part of the retailer's Nourish the Nation program with Comic Relief which aims to tackle food poverty now and in the future. Overall, it is hoped that this six-week drive, which launched on May 31st, will contribute at least £3million to the program this summer.
The DINspiration pop-up will be available to commuters outside London Kings Cross station on June 26 and 27 from 5pm to 7pm. The kits will contain complete ingredients for recipes such as Teriyaki Stir Fry and Harissa Chicken Traybake, helping busy commuters find inspiration for their dinners in a convenient, nutritious, and time-effective way.
Ruth Cranston, Sainsbury's Director of Corporate Responsibility and Sustainability said: "With so many people lacking dinner inspiration, we hope our pop-up adds a bit of flavor to commuters' mealtimes. Our Inspired to Cook range is designed to inspire our customers' food choices, helping them to cook fresh, nutritional meals with ease. And now, with Sainsbury's donating 50p from every Inspired To Cook product sold until 11th July, this popular range not only tastes good, but does good too. All funds raised will go to our long-standing charity partner Comic Relief as part of our Nourish the Nation initiative, which seeks to prevent people falling into food poverty now and in the future."
Working in partnership with Comic Relief, Sainsbury's Nourish the Nation program supports organizations such as Feeding Britain and The Bread and Butter Thing in their work to help alleviate food poverty in communities across the country.