Albert Heijn Launches "Better in own brand. And you notice that" Campaign
The number of Retailer-owned Brand products in the shopping basket has increased for the third year in a row. Dutch grocer Albert Heijn shares this on the eve of the new campaign "Better in own brand. And you notice that." which started today. Ahold Delhaize-owned Albert Heijn shows customers that they can choose from tasty, healthy, and sustainable products of their private brand for a competitive price.
The campaign focuses on affordability and on the quality of Retailer-owned Brand products. The AH brand has always been a spearhead at Albert Heijn, with the extensive range being continuously updated. The range is developed by our in-house product experts, quality managers, culinary chefs, and Albert Heijn partners, and is always tested in the retailers' kitchens and with customers. Albert Heijn products regularly receive awards, from the Consumers' Association to the Telegraaf Smaaktest and the Grote Hamersma, but the most important thing is of course the recognition of customers themselves.
The campaign 'Better in own brand. And you notice that.' runs from next Monday to mid-September.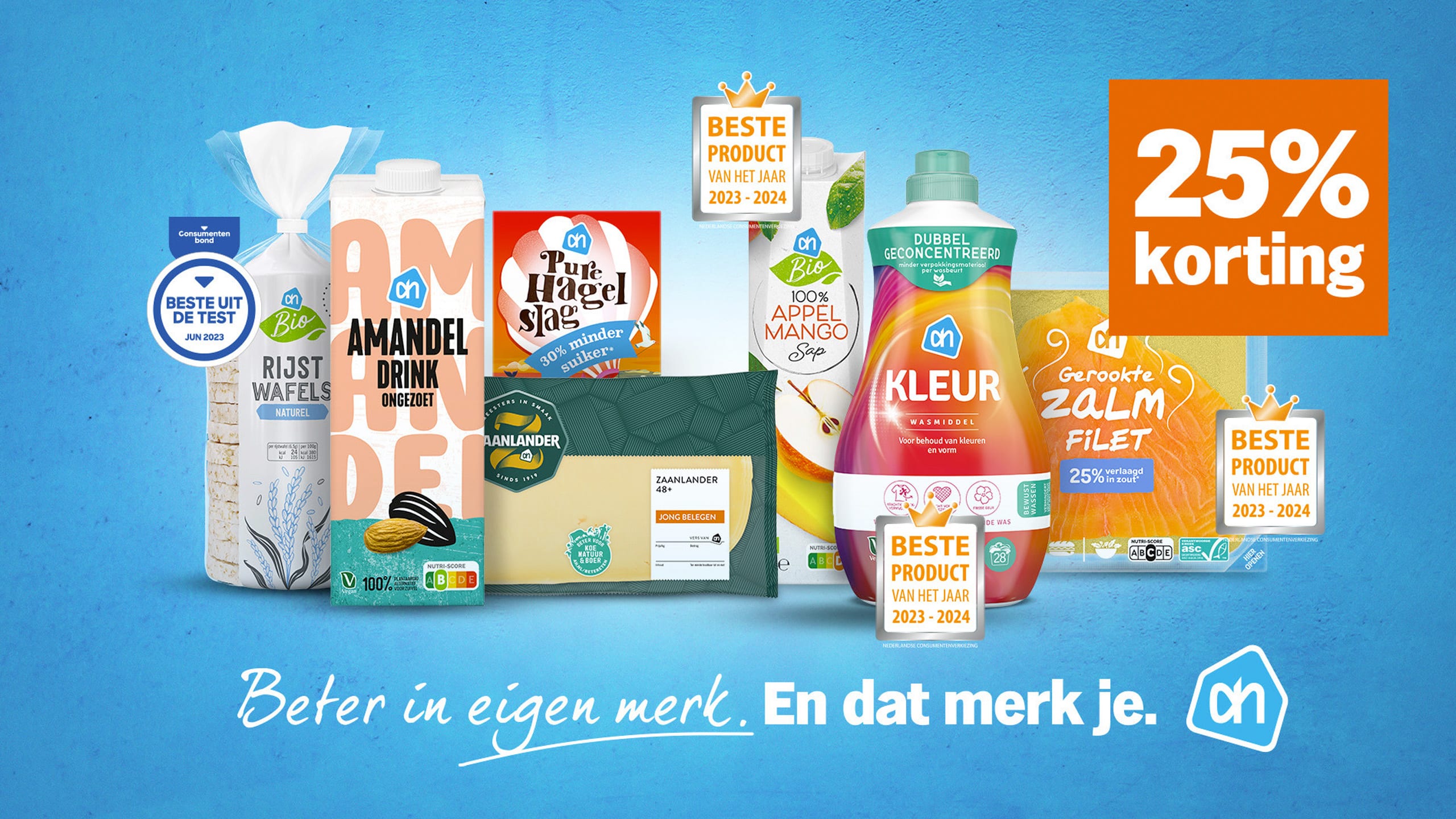 "We see that customers are increasingly paying attention to the price and more often buy own-brand products," says Johan van der Zanden, director of marketing & communication at Albert Heijn. "With our own brand, and in particular with our Price Favorites, we make it possible to choose the cheapest products of top quality. From dairy to detergent, you're always in the right place with our own brand. We want to show that to the whole of the Netherlands."
Price favorites are the 2,000 cheapest Retailer-owned Brand products from Albert Heijn, which are conveniently marked with a blue thumb icon. Price favorites are available for all daily shopping and everything for the household.
Customers can now choose from 10,000 Albert Heijn brand products and research shows that customers are again buying more private brand products this year than before. For example, the sale of the award-winning AH 100% Peanut Butter has doubled. In addition, the well-known brands of Albert Heijn, Perla coffee, Delicata chocolate, Care drugstore, Zaanse Hoeve dairy, Brouwers Bier and Zaanlander Kaas, are now indispensable in the shopping basket.
"Our own brand is of course one way to save money, but we offer many more benefits for our customers," says Johan van der Zanden."For example, Albert Heijn has the most and best offers in the Netherlands with hundreds of bonus offers every week. In addition, customers with My Albert Heijn Premium receive an even greater discount."