Marks & Spencer Rolls-Out Braille Gift Card Range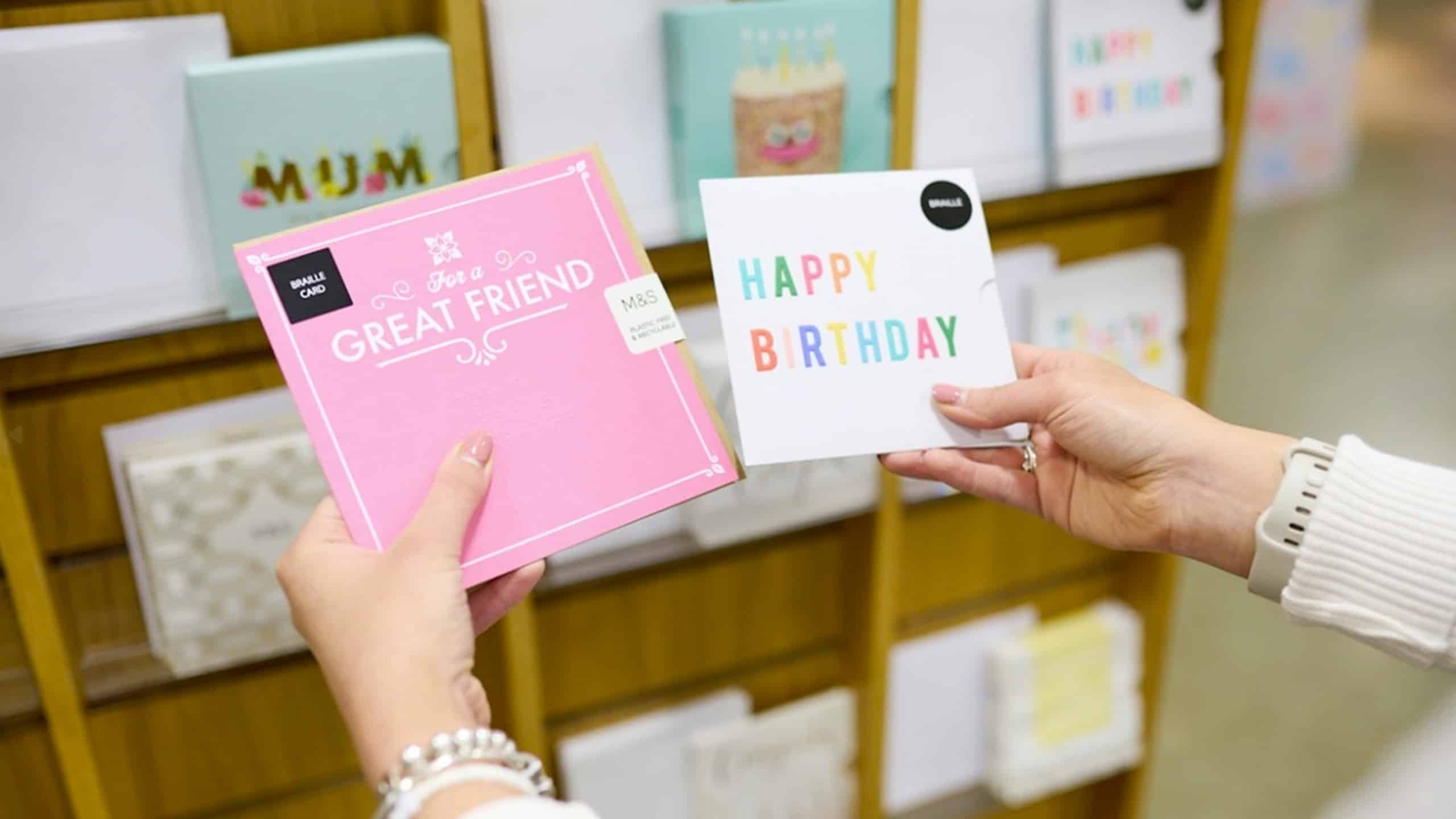 UK retailer Marks & Spencer (M&S) has launched a first-of-its-kind 'Happy Birthday' Retailer-owned Brand braille gift card, developed in consultation with the Royal National Institute of Blind People (RNIB). Joining the gift card is a collection of three braille greeting cards – covering different celebrations.
The industry-first braille gift card features an embossed outer sleeve to communicate the 'Happy Birthday' message and an embossed gift card enclosed within the sleeve which can be used online or in over 700 M&S stores.
RNIB estimates more than two million people in the UK are living with sight loss, of which 340,000 people are registered blind or partially sighted.
The rollout of the braille range was accelerated following suggestions from five colleagues via M&S' CEO suggestion scheme. One of the colleagues who made the suggestion, Elizabeth Abudu, who works as a Team Manager at M&S' Streatham Hill store was inspired to submit the idea while assisting blind and partially sighted customers who regularly visit the store.
Kathryn Turner, Product Development Director at M&S, said: "It has been fantastic to have input from RNIB to bring our new braille designs to life. At M&S, we're committed to being a great place to shop for everyone. A massive part of that is offering inclusive products that represent the diverse communities we serve day in day out.
"Our customers are always at the heart of every product we design, and we hope our first-of-its-kind braille gift card and range of greeting cards will make it that bit easier for customers to show their love and appreciation for friends and family members with sight loss."
Ali Long, Director of Consumer and Business Services at RNIB, said: "We're delighted to have worked with M&S on their range of braille cards. The rollout of their braille range will make such a difference to their customers who are blind or partially sighted. This is a really positive step in making shopping and the giving of cards an inclusive experience for people living with sight loss."
Each greeting card and gift card design is plastic-free, made of FSC Certified paper and fully recyclable (customers just need to remove the glue dots from the gift card).