Retail Brands Institute Boldly becomes the Velocity Institute.
Greetings,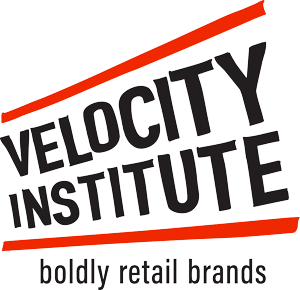 I want to share a new and exciting development.
You probably know that the Retail Brands Institute (RBI) has used the tag line "Be Bold" to help drive the industry to push its envelope.
As we began planning for this year's return to in-person events with the Velocity Conference and Expo, our team started to ask, 'Have we been bold enough?" The name Retail Brands Institute was an important step forward, signaling the importance of Brand, but it was not the final step.
So today RBI is pushing its own envelope with a name change that will leverage the brand equity of our signature Velocity conference.
RBI is changing its name to The Velocity Institute along with the tagline "Boldly Retail Brands," as we move forward on the ambitious journey begun late last year — when we launched a global professional member organization to advance retailers and their brands across all categories and channels.
The Velocity name will serve as the anchor as we execute on our wide range of strategies and plans for 2022 and beyond. Among these strategies are in-person and virtual events, research, education, community-building, awards, and daily news updates about the industry.
I'm proud to say we already have in place an Advisory Board of more than two dozen retail executives and solution partner companies, representing the industry's leaders.
The Velocity name draws on the success of the last five years of our groundbreaking Velocity conference and evokes the power and speed of the Retail Brands industry.
The institute name change comes at an especially timely moment. The Velocity Conference + Innovation Expo is set for May 16-18 at the Charlotte Convention Center in Charlotte, NC. It will be the first in-person event for the Retail Brands industry since the beginning of the Covid-19 pandemic more than two years ago. We look forward to welcoming the industry and building our community.
I will finish this note by underscoring that the mission of this organization has not changed. We remain committed to:
• Leading the game-changing shift to radically transform private label into a RETAIL BRAND-CENTRIC and CONSUMER-FOCUSED industry.
• Bringing the world's leading retailers, manufacturers, and solution partners together to network, learn, and grow.
I'm very pleased that you are along on this exciting journey with us.