'The Marksologist' Premium Cocktails From Marks and Spencer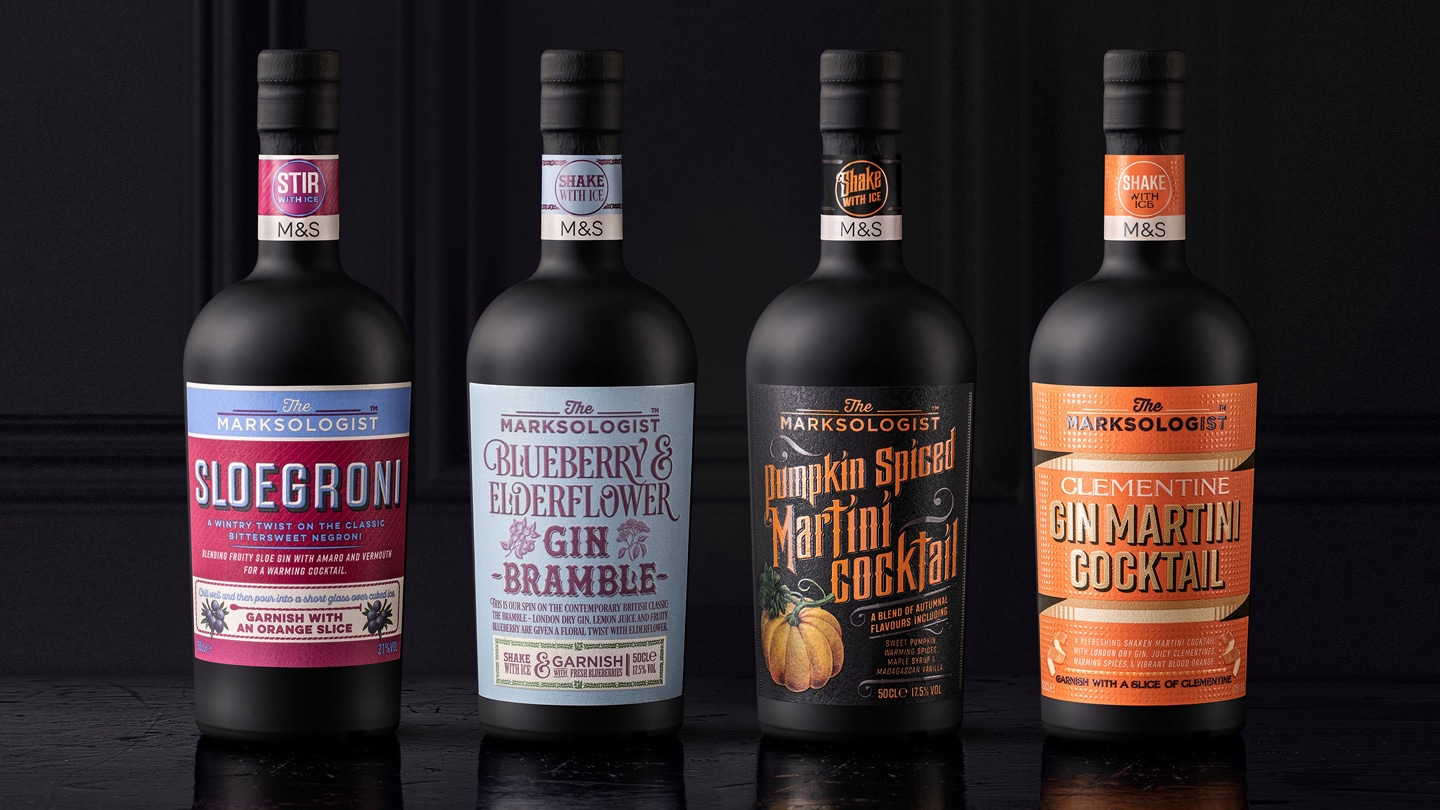 Research shows that consumers enjoy making cocktails at home, but the results can be disappointing and often not as good as what they would drink in a bar. Cocktails can also require small amounts of many expensive ingredients that are sometimes hard to find.
'The Marksologist' is range is a premium Retail-owned Brand (private brand) collection of ready-to-drink cocktails from Marks & Spencer. Created to the highest mixologist standard they are designed to replicate the in-bar drinking experience of a 5-star cocktail bar.
To communicate the authentic cocktails, Sand Creative chose to highlight the provenance and history behind each recipe. Each label is decorated with subtle details, stories, and recipe suggestions. Marks & Spencer also worked with mixologists to add the M&S twist to each recipe.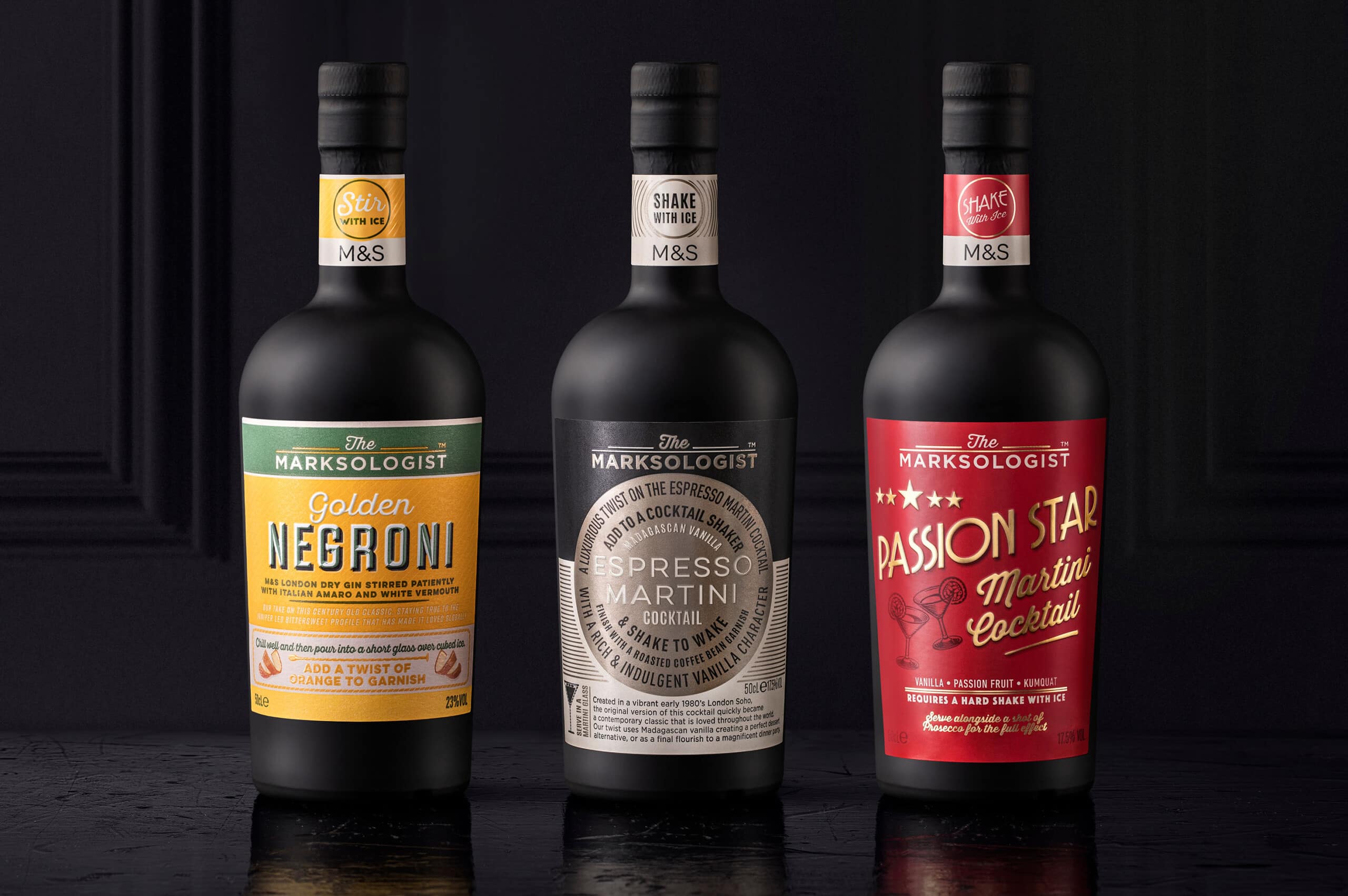 The Clover Club label shape and decorative elements, for example, take inspiration from the beautiful art deco building in Philadelphia where it was first conceived in the 1880s. The distinctive pink label communicates the vibrant color of the cocktail itself.
Old Fashioned is one of the world's first recorded cocktails. To reflect this a more traditional double label was used with authentic 19th-century typography in brown and copper colorways. The substrate's tweed-like texture has the appearance of a smart suit.
The Verdita Margarita design is vibrant and fun, showing Margarita framed by bold embossed ingredients. The substrate has a hand-made paper feel that was chosen for its rustic look. The copy down the side of the label tells a short history and states "best enjoyed in great company."
The Negroni and Sloegroni cocktails are inspired by vintage Italian posters with their bold typography, colors, and illustrations.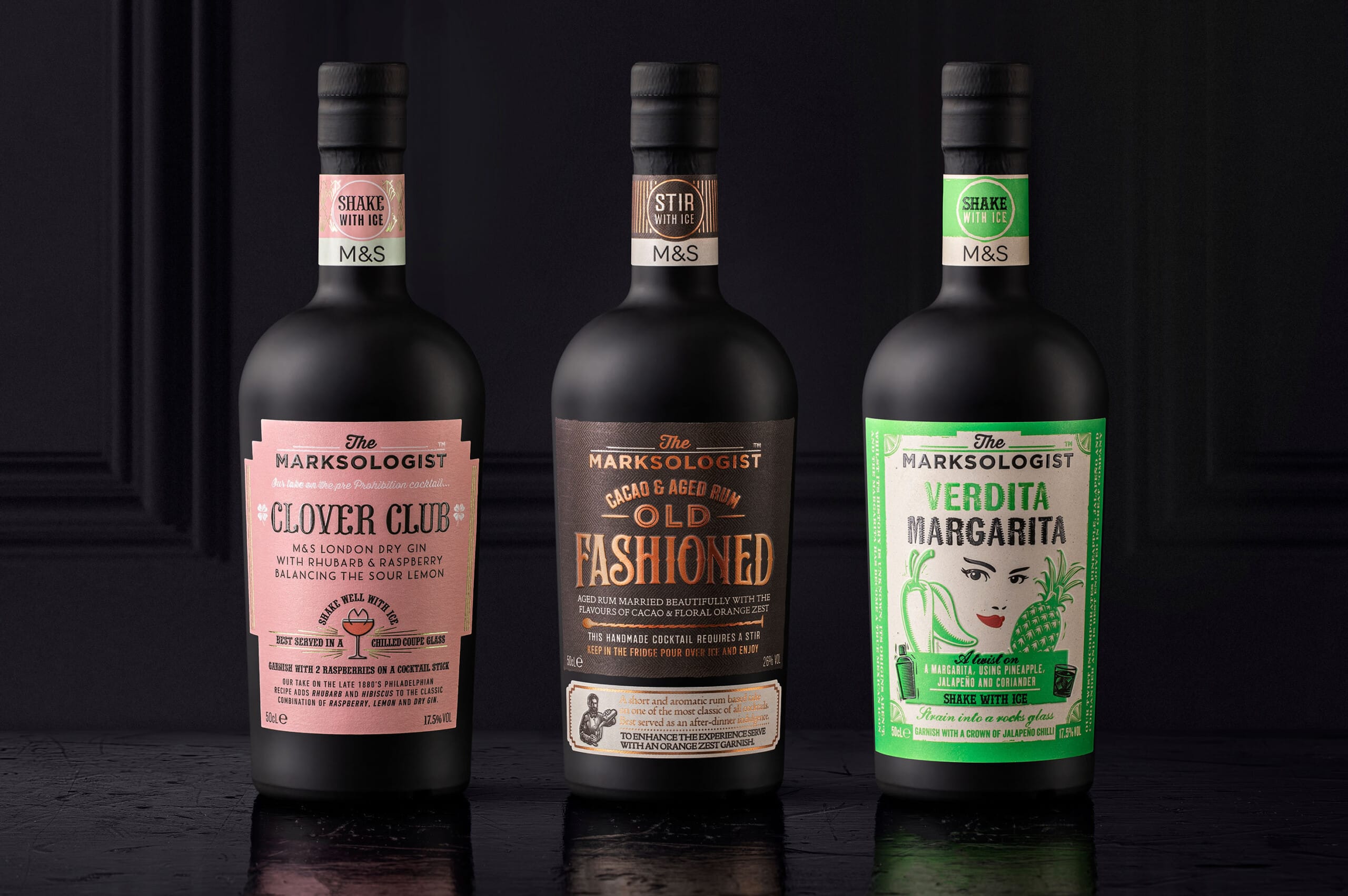 Espresso Martini was created in the early 1980s by the famous mixologist Dick Bradsell in Soho. The design is busy with typography to reflect his chatty personality. The mellow, muted premium colorways echo the Espresso Martini appearance. The consumer is encouraged to garnish the cocktail with Bradsell's three lucky coffee beans.
Classic advertising motifs inspire seasonal cocktails such as Clementine Gin Martini with a peel twist design. The substrate was chosen for its fruit peel-like texture.
Pumpkin Spice Martini could be enjoyed for Halloween. We commissioned an illustrator to illustrate a pumpkin in a more traditional 40's matchbox-type style.
As well as communicating the provenance and history each design encourages you to shake or stir the cocktail and finish with a suggested garnish and serve in the correct glass.
The labels are finished with a mix of beautiful embellishments. Embossing, debossing, hot foiling, high-build screens, premium inks, and die-cut labels can be seen within the designs.