Waitrose's New Coronation Collection is fit for a King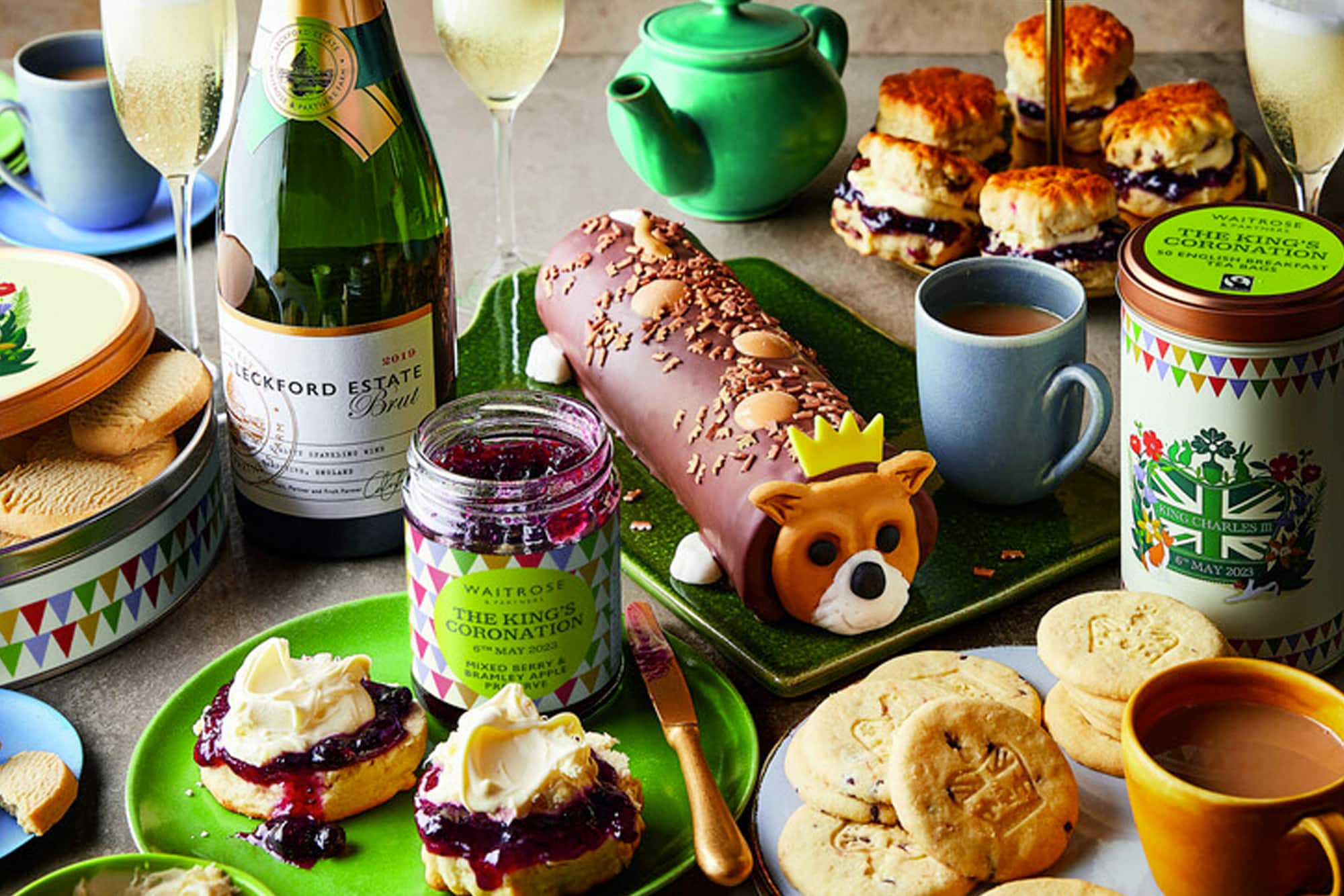 As the United Kingdom prepares to celebrate the Coronation of King Charles III, Waitrose is launching an exclusive new collection of products. Designed to give customers all they need to create the ultimate celebration, from drinks, scones and exclusive preserves through to decorations and collectible gifts from Waitrose Duchy Organic, the Coronation Retail-owned brand (private brand)limited edition products mark a joyful moment in British history.
Emma Beale, Head of Product Innovation at Waitrose, said: "With Coronation themed recipes increasing on Waitrose.com, we know our customers are already feeling the excitement. Whether neighbors unite to toast His Majesty King Charles III and The Queen Consort or people use the extra bank holiday to catch up with loved ones, our limited-edition range has everything to create a sense of occasion. We've experimented with and elevated some great British classics using locally sourced ingredients. From Jewel the Jack Russell Cake through to crown-embossed Duchy Shortbread that makes the perfect gift, our selection will make celebrations tasty, affordable, and memorable."
Afternoon tea
The new Jewel the Jack Russell Cake, a playful chocolate cake featuring a regal crown and chocolate buttercream is sure to set tongues wagging. Waitrose will be donating £1 of sales to Battersea Dogs & Cats Home. Jewel will sit proudly alongside classic all-butter scones and the new Coronation Mixed Berry and Bramley Apple Preserve, a tangy mixed fruit jam with blackcurrants, blackberries, raspberry purée & Bramley apple.
A number of Waitorse customers' favorites have been given the royal treatment in commemorative Coronation limited editions. Rich and crumbly all butter plain Scottish shortbread, baked in the heart of the Highlands are housed in a distinctive tin bearing the date of the King's Coronation. In the same design to accompany they have a special Coronation tea caddy filled with 50 English breakfast tea bags.
There is plenty to raise a glass within the exclusive collection. Silent Pool Gin is a luxury gin handcrafted with 24 botanicals in the Surrey Hills and comes in a unique Coronation edition bottle exclusive to Waitrose. If English fizz is your tipple of choice, the iconic Leckford Estate Brut made with grapes grown at Waitrose's own vineyard in Hampshire, will be perfect to enjoy over the Coronation weekend.
Products
Jewel the Jack Russell Cake, £9.50
Jewel is a Jack Russell chocolate cake, with a swirl of chocolate buttercream on the inside and finished with a coating of milk chocolate, Royal sprinkles and a crown.
Coronation Shortbread Tin, £10
Rich and crumbly all butter plain Scottish shortbread, baked by a family-owned bakery that make the shortbread in the heart of the Scottish Highlands.
Duchy Organic Sweet Selection Shortbread Box, £9
All butter shortbread selection of plain and chocolate chip flavored with Madagascan vanilla and embossed with a Coronation emblem. Organic flour is made with British wheat, including crops from Duchy Home Farm at Highgrove. Churned organic British butter. And the dedication of the family-owned bakery that make the shortbread in the heart of the Scottish Highlands.
All Butter Scones, £2 for four
Made with Cornish buttermilk and clotted cream for a light, fluffy texture, and extra flavor. Perfect for a traditional cream tea with clotted cream and jam or served warm with butter and honey.
Mixed Berry & Bramley Apple Preserve, £3.45
A deliciously tangy mixed fruit jam with blackcurrants, blackberries, raspberry purée & Bramley apple. The ideal accompaniment to scones.
Coronation Tea Caddy, £6
A bespoke commemorative tin proudly celebrating the King's Coronation houses a strong smooth and refreshing blend of English breakfast tea. With 50 tea bags, brew up for the entire street or capture a moment alone.
Silent Pool Gin, £45
Waitrose will be exclusively selling a limited-edition Silent Pool Coronation Gin. Created in the heart of the Surrey Hills, this gin is a rich and clean juniper-driven spirit with floral layers of lavender and chamomile, notes of citrus and lime leaves, grounded with the subtle sweetness of local honey.
Leckford Brut, £29.99
Made with grapes grown at the Waitrose vineyard on the Leckford Estate in Hampshire and crafted at a premier award-winning English wine estate, Ridgeview, this blend of traditional sparkling wine grapes, Chardonnay, Pinot Noir, and Pinot Meunier, has been bottled-fermented and lovingly aged to the very highest standards. Aromas of toasted brioche and hazelnuts give way to a creamy palate with apple and peach flavors and a citrus twist on the long and complex finish, enlivened by a fine and exuberant mousse.
The King's Coronation Bouquet, £15
This bouquet contains flowers in jewel tones, including British Tulips with scented foliage from the Waitrose Foundation farms in Kenya.