Register NOW for the WISE annual meeting
Register for the  Women in Storebrands Excellence Annual Meeting and join attendees for a pre-show speed networking event! It's a great way to meet new contacts in the industry and reconnect with old friends.
The WISE team has an exciting agenda for this virtual event and are thrilled to announce the featured speaker, Colonel Merryl Tengesdal, USAF (ret.), the first and only African-American woman U-2 pilot.
THURSDAY, NOVEMBER 4, 2021
Virtual speed networking begins at 10:15 AM CST
Program begins at 11:00 AM CST
Members: $30 | Non-Members: $60
(Not a WISE member yet? Sign up today and receive complimentary admission to our meeting.)
Featured Speaker: Colonel Merryl Tengesdal, USAF (ret.)
Colonel Merryl Tengesdal, USAF (ret.) is the first and only African American woman U-2 pilot, a high-altitude reconnaissance aircraft. As a former Naval Aviator and Air Force Combat Pilot, Colonel Tengesdal (ret.) has flown over 3,400 flight hours including 330 combat hours in six different rotary and fixed wing aircraft. She has been deployed worldwide supporting combat operations in Afghanistan and Iraq and military operations in South America, the Caribbean, and the Horn of Africa.
Colonel Tengesdal (ret.) has extensive command and senior leadership experience including Deputy Operations Group Commander and Inspector General for the 9th Reconnaissance Wing, Director of Operations and Commander for the 9th Physiological Support Squadron. As the first female selected to be Commander of Warner Robins Air Logistics Center, Detachment 2 at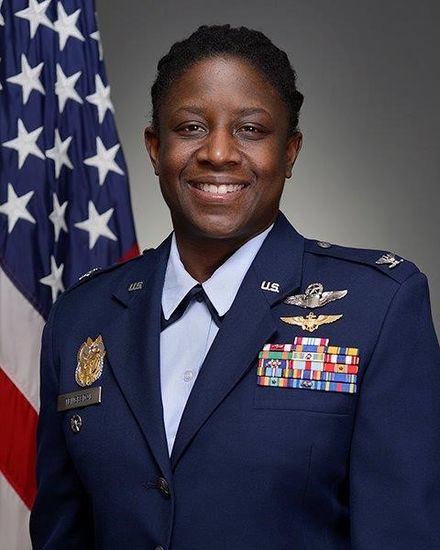 Palmdale, CA, she led the oversight of a multi-billion-dollar depot-level maintenance, repair, and developmental testing program for the U-2. She retired in 2017 from the Pentagon in her last assignment as the Director of Inspections for the Air Force Inspector General, where she oversaw USAF's conventional, nuclear and special access inspections program for 860,000 Airmen.
Since her retirement, Colonel Tengesdal (ret.) has become a highly sought-after motivational speaker for industry, non-profit organizations and educational institutions on a wide range of topics including diversity and leadership, applying military leadership lessons to business enterprises and women in leadership. Colonel Tengesdal (ret.) has a keen interest in promoting efforts to increase women and children of color in STEM.
Colonel Tengesdal (ret.) is a Reality Television Star and cast member on season 2 of CBS's uplifting, reality competition show Tough As Nails and promotes increased minority involvement in the Trades. She has also appeared as a commentator on PBS's UNLADYLIKE2020: The Bessie Coleman Story (2020) and as a technical consultant to Steven Spielberg on Bridge of Spies (2015).
In 2021, she received an Honorary Doctorate Degree in Engineering from her alma mater, the University of New Haven for her pioneering career and the far-reaching impact she has had in helping others soar to new heights.
Be sure to ATTEND LIVE as this presentation
will not be available on-demand!
All annual meeting attendees will receive a FREE e-book, Shatter the Sky: What going to the stratosphere taught me about self-worth, sacrifice, and discipline. In a life filled with meaning and accomplishment, Colonel Merryl Tengesdal (ret.) has become one of the most interesting and compelling maverick women in aviation.
In this inspirational memoir, she shares her Life Lessons on everything from her career in the military, being the first and only black woman to pilot the U2 aircraft, to marriage and motherhood–and everything in between.