Pet Supplies Plus Launches OptimPlus Wet Food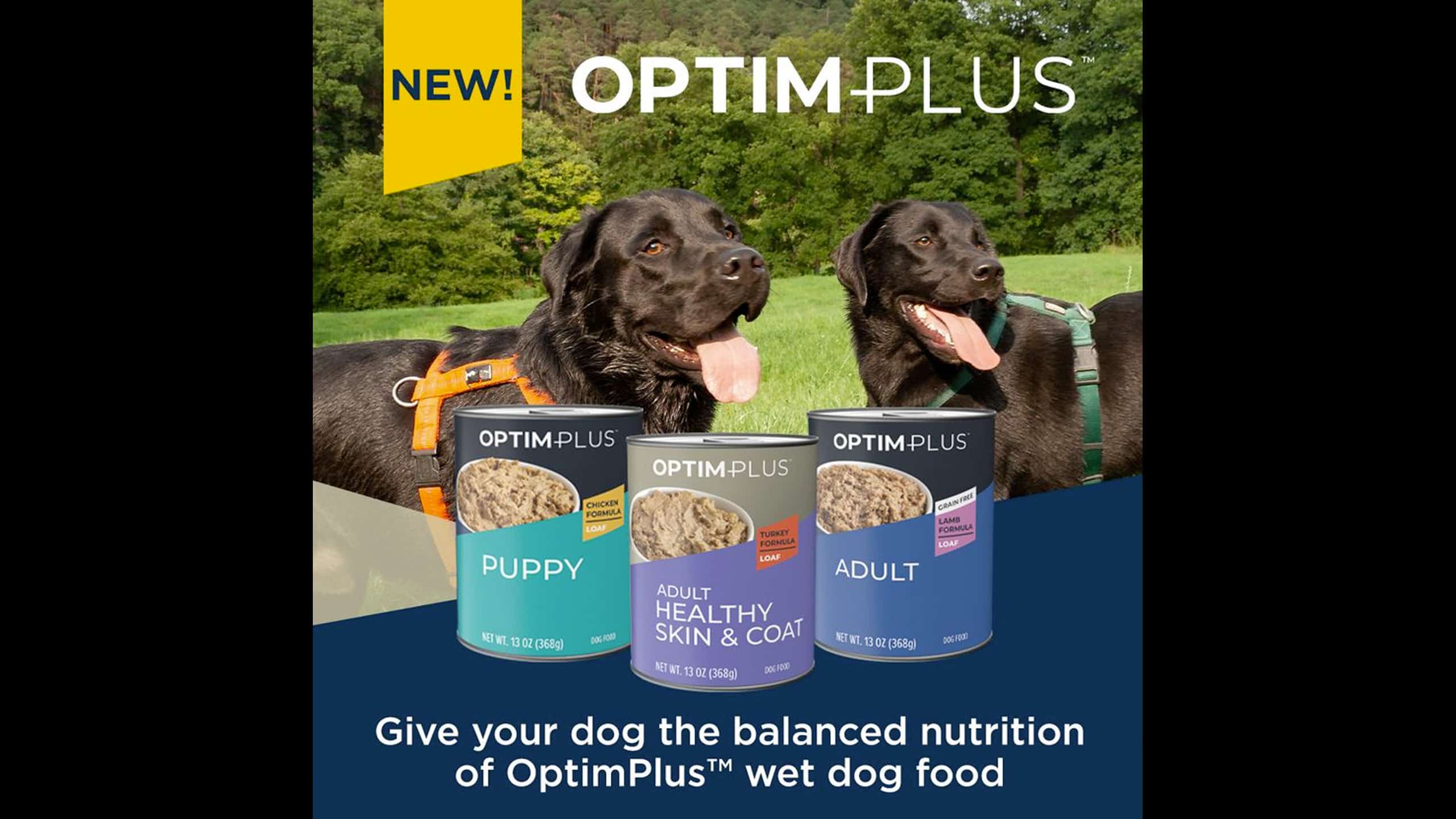 As pet owners steadily increase, Pet Supplies Plus continues to meet consumers' needs by expanding their product offerings. After adding OptimPlus and its dry food to its roster of Retailer-owned Brand (private brand) products a year ago, the retailer announced the launch of a new line of OptimPlus wet food.
Nearly 87 million households own a pet, with dogs and cats being the most popular. The new wet food launch includes products for both dogs and cats, giving pet parents even more optimal health options at Pet Supplies Plus. Available in stores nationwide and online, OptimPlus wet dog and cat food are made with real animal proteins and has no added corn, soy, or wheat ingredients. In addition, for a puppy/kitten, adult, or senior pet, OptimPlus wet food has formula options to meet the nutritional requirements of your pet's life stage. There are also targeted formulas that help with specific needs, such as hip and joint support for dogs, hairball control for cats, and more.
OptimPlus is formulated to take the guesswork out of dog and cat nutrition. However, if pet parents are considering switching to or adding wet food to their pet's diet, Pet Supplies Plus recommends always consulting their veterinarian first.
BENEFITS OF WET FOOD:
Easy to Consume: Some pets may have dental disease or other oral conditions, and older pets who may have lost teeth could need a softer option. While some food formats can be difficult for some dogs to eat, wet food is a great alternative.
Helps with Hydration: If your pet doesn't drink as much water as they should, wet food could be a great option to increase their water intake. In fact, cats benefit from getting most of their water from the moisture in their food.
Offers Versatility: Wet food can be served as a standalone meal or it can be mixed in with dry kibble to add flavor and texture to a pet's everyday food. If used as a mix-in, pet parents should remember to factor in the wet food as part of their pet's recommended daily caloric intake.
Highly Enticing: Wet food is very aromatic, quite flavorful and rich in meat and moisture content. The combination of these qualities makes wet food especially appealing to dogs and cats alike.
Rich in Protein: The nutrition provided by the high total-meat and protein-rich ingredients typically found in wet food make it ideal for active pets. In addition, wet food usually contains smaller amounts of carbohydrates and starches.
"We take pride in offering our neighbors a large range of products so they have everything they need to give their pet a happy and healthy life," said Chris Rowland, Chief Executive Officer of Pet Supplies Plus. "With the addition of OptimPlus wet food, pet parents nationwide are able to optimize their pet's nutrition at an optimal price. We look forward to continue being the one-stop-shop for pet parents and further expanding our offerings as the brand grows."
OptimPlus dry and wet food formulas are just as unique as each pet, focusing on their life stage, breed size, dietary needs, and overall health. To provide pets with a balanced diet, our natural dog and cat foods include an enriching blend of vitamins, minerals, and nutrients. OptimPlus products are also made in the USA with deliberately selected ingredients from around the world and use real animal proteins.